Some Important Things to Consider While Designing Kids Dining Area
A home with kids is always designed differently than a home with only adults. Everything in a home with kids needs to be safer and more fun for the kids to remain busy with. You can't have a lot of things that can break easily around kids, because these are kids and they are going to break most of these things.
Designing a kid's dining area is not very difficult; it just needs a bit of care in designing and a good understanding of children's likes and dislikes. Designing with care does not mean that your options for a kid's dining area are lesser than a regular dining area. You can still use a lot of stuff to decorate a kid's dining area. How?  I have some tips for you.
Designing A Kid's Dining Area
While designing a kid's are the only thing that you need to be most careful about is that you don't put any dangerous things, furniture in the room. Go with safer elements. Let's see what you can have a kid's dining area.
Glass Tables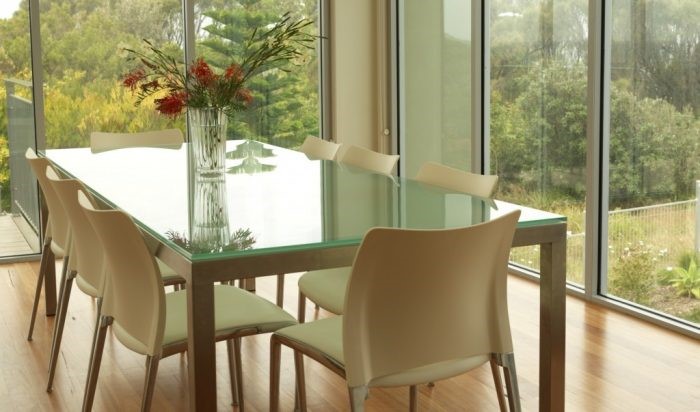 You must be thinking are glass dining tables safe to put in a kid's dining room? Well, yes, they are, but it depends on what kind of glass you are using. Glass tables are now made with a stronger and safer type of glass that is not easy to break, and almost impossible for the kids to break it. The glass is laminated or tampered, which makes it very strong.
You must be very careful that you are choosing the right glass, don't go for cheaper lower quality glass because such glass is at a higher risk of breaking and you don't want to have such risk around kids. For the stronger type of glass, kids would not have that much strength to break it because the fact is that strong types of glass take a much stronger hit to break and that rarely happens.
So, for the dining table, you can choose glass tables. Now of course in glass table tops, you would have a lot of design and color options.
Table Designs
Height
Since the glass dining table is for kids, it would be better if you choose a table with lower height and equally height chairs. The chairs and the tables both should be of a height that's easier for the kids to reach and on which they can sit on themselves without anyone's help. Too high chairs and tables become difficult for the kids to reach, and they get disturbed by that.
So, go for a lesser height table and chairs.
Designs
There are many tables designs available in the market. The best suited for kids would be a circular design, square or the good old classic rectangular design. These designs are easier for the kids to handle. Now you might see some arbitrary designs in the market, some wooden designs are cut into various shapes some might even in the shapes of cartoon characters, but those designs are not very well suited even for a kid's dining area because even if it's for kids, it has to look good and aesthetic. Putting some cartoon character shaped table won't add any aesthetics to it. Besides, it is better that kids learn the basic manners of eating on a traditional table that they are going to eat on for the rest of their lives.
It is also easier to eat on well-shaped tables, and there will be a lot less mess on the table.
Table Color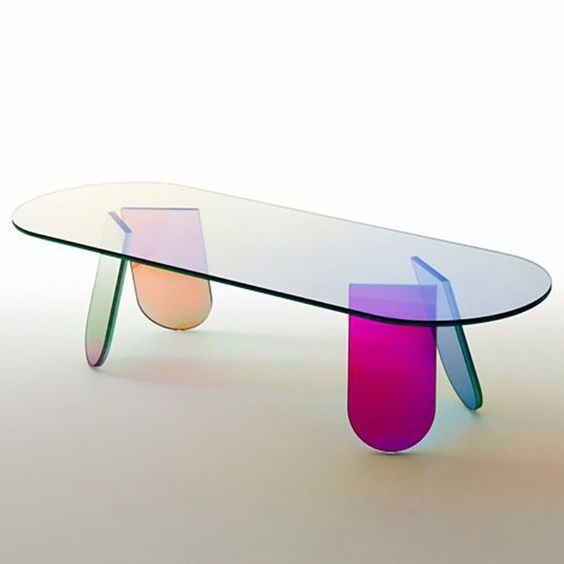 The glass dining table color is also a very important thing to consider because you want it to be authentic while also interesting for the kids. Now the kids do like bright colors, but for a bright colored table, you will have to match it with the rest of the theme.
There are more traditional colors that you can use that will be good for the kids as well as for the décor of the room. Colors like royal blue, matte red, wood color, or you can try some dark shade of pink.
Black is not a good option because it does not attract kids. White would also be not a great idea because these are kids; they are going to spill and keeping a while table clean with kids can become a big challenge. The table would end up looking bad in some time, and you will have to replace it. So, it is better than you choose some darker shades.
The Room Décor
Wall color
Very bright colors are uncomfortable for the eyes and don't create a very relaxing vibe for the room. Choose some more subtle and soothing colors, colors that are comfortable on the eyes, like mattered, cream color, if you want to make it interesting for the kids you can choose light shade of purple (darker shade will make the room gloomy which is not good for the kids), light shade of blue would also be good. So, for wall colors, you will have to choose something that gives a fresher and an open look to the room.
White can also be good for the walls; it gives a more open look to the room.
Decoration pieces
For decoration pieces, you will have to be careful. Do not choose very delicate things that are easy to break. Kids like to play around while eating, and they might break something. This would be dangerous for the kids as well as a loss of money. Choose stronger elements, and do not break like plastic or plexiglass decorative. Glass décor would be just a waste of money. Plexiglass decoratives do not break and are lightweight so the risk of kids hurting someone else with a decorative would also decrease.
Wall Décor
For wall décor, you can choose some fun paintings, paintings or frames of some cartoon characters, like Elsa, Olaf, Aladdin, Spiderman, Batman, etc. It would make the room interesting for the kids and kids would like to eat in such a room, which of course is a tough job to do. It would make the room more fun for kids, and they would enjoy their meal.
So, these were tips for you to design the perfect dining room for kids. Just keep it aesthetic for you and fun for the kids, and they would love it.
Tags:
glass dining tables
,
glass table tops