Step-by-Step Guide to Get Perfect Egyptian Eye Makeup
If you are new to the makeup industry, you must know that ancient Egyptian makeup still inspires a variety of makeup styles across the globe. The ancient Egyptians were worldwide known for their royal look, especially when it comes to hair and makeup.
Today, many makeup artists know how to capture these makeup tricks in modern makeup looks. If you want to get the timeless and breathtaking Egyptian style, the best way is to create Egyptian eye makeup for a basic look.
Do you know that ancient Egyptians were very particular about their eye makeup? They used to have heavy black kohl and green eye color. This practice of ancient civilization has brought a great influence on modern makeup trends. Visit GlamourNGlow Blog for more makeup guides
Let's have a look at the easy steps to get your eye makeup in the Egyptian way.
Apply base eyeshadow
You have to start with using primer on your eyelids as well as the area under your eyes. After this, now it's time to apply your base eyeshadow. For this, you have to use a metallic muted gold shade. Apply this eyeshadow all over your eyelid. Make sure to apply this shade a little bit up to the crease. For this, the best way is to use a flat shading brush.
Give shape to cut-crease
The next step is to take a black kohl pencil and give shape to your cut-crease in the way you want. For this, you require drawing a line a little above your natural crease line. It should be in such a way that this line flicks out and a little up towards the end. Don't miss inner corners. Here, you have to draw the line in a direction towards your nose.
Use brown eyeshadow
Now, it's time to use a soft brown matte eyeshadow. Simply apply it over the kohl line using a pencil brush. Make sure to blend the eyeshadow as much as you can. It will help in making the perfect base for Egyptian eye makeup.
Create a gradient
Now, get a black eyeshadow and a pencil brush. Here, you have to use both these products to perfectly blend the kohl and the brown shadow that you have already applied. In this step, you will be able to create a gradient. Moreover, the blending will also help in getting rid of any harsh lines.
Then, take a fluffy brush and make sure it should be clean. You should know how to blend these colors properly using this brush for a final touch.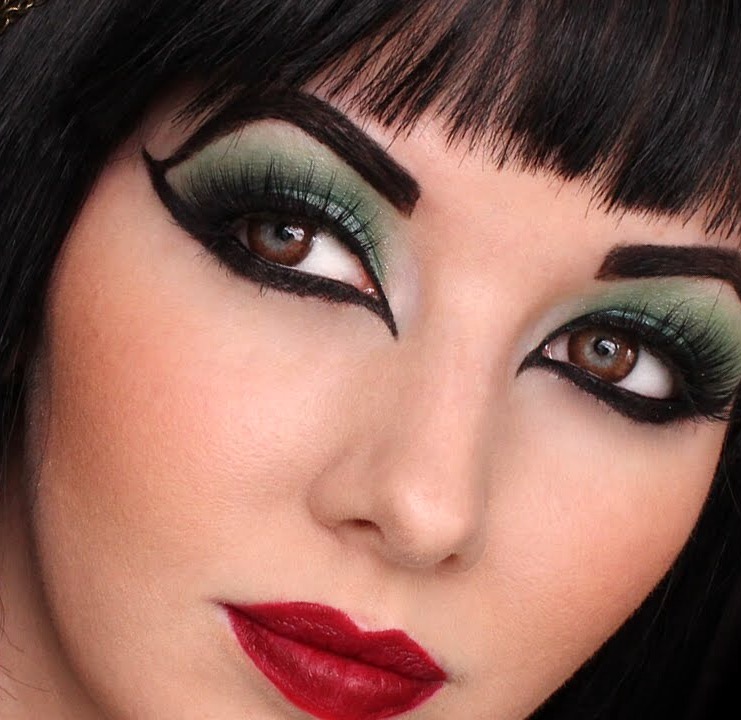 Highlight eyebrow bone
Now, you have to highlight your eyebrow bone with the help of a good quality highlighter. Make sure to layer your highlighter until you are able to see a prominent gold sheen.
Use blue eyeshadow
Now, you can jazz up your eye makeup with blue eyeshadow. You can use this eyeshadow of any brand you have. Apply it on the outer 'V' of your eye. Don't forget to blend it properly.
Do the wings
In this step, you can use any of your favorite liquid eyeliner. Simply draw a thin wing using this eyeliner in a way that it elongates towards the outer corner of your eye. Don't miss extending this eyeliner towards the inner corner of your eye. It will help in achieving a more Cleopatra-like effect.
Then, take a pencil liner and draw a tight line on your upper lash line.
Finish with mascara and falsies
Finally, you can end your eye makeup with some mascara. You can also use a pair of luscious falsies to enhance your eye makeup.
Tips to Nail Your Egyptian Eye Makeup Look
The main thing the ancient Egyptians looked at was their eyes. After going through the steps of achieving the vivid and unique eye makeup look, you must also be aware of some tips and tricks to make this look more perfect.
Don't miss wearing an eye primer to keep your eye makeup secured all day long. No matter what skin type you have, you must use a primer.
If you are a woman with oily skin or you think you are going to a hot place, you are recommended to use waterproof eyeliner and mascara. Obviously, no one wants to make their makeup run down and turn their face into a big mess.
When it comes to Egyptian eyes, mascara holds a special position. But, keep it simple and let your lashes steal the show; after all, you want to get an authentic look. So, concentrate on your eyeliner.
Eye makeup is not all about applying eyeshadow and other products to your lids. It also involves eyebrows that you must not forget when getting this Egyptian look. Make sure to fill in sparse brows or you can also make your brows dark with some brow pencil. This step will work great in enhancing the beauty of the look.
If you want to recreate this look, you must ensure to keep attention on your base makeup, hair, and jewelry as well. This way, you will not look less than a royal beauty from medieval Egypt.
yes
Tags:
Beauty
,
egyptian eye makeup
,
eye makeup
,
eyeshadow
,
makeup
,
mascara