For decades, influencer marketing has been one of the most effective marketing techniques many businesses leverage on bring huge benefits to their business. Some popular influencer marketing platforms include social platforms like Facebook, Twitter, YouTube, LinkedIn, and Instagram. So, who is an influencer?
An influencer is someone who has gained huge popularity on social media and has the power to affect the decisions their followers make. These individuals are able to link up your business with their followers and help convert them to your customers. Every business really needs to include them in their marketing strategies to achieve their business goals in the midst of fierce competition.  In this article, you will be seeing the most effective way you can easily find YouTube influencers to help your business stand out among several competitors.
 How to Find Influencers with Easy Steps
When looking to start influencer marketing, it is essential you choose the right person for this purpose. You cannot just choose anyone on the internet. Any influencer you will be choosing has to be someone that will positively impact your business and help it reach its peak. So how do you find the right influencer? That is where you need InflueNex.
InflueNex is a powerful yet user-friendly online influencer marketing tool launched by Wondershare. The leading technology company launched the software to help anyone find the right YouTube influencer for their campaigns. It allows you to search, manage, analyze, and contact influencers on YouTube which is a platform housing millions of influencers. InflueNex is a robust tool that helps you identify just the right influencer match for your social media campaigns.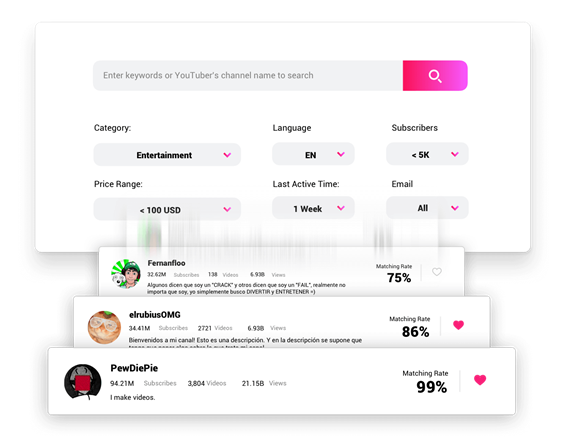 What Are the Key Features of InflueNex?
On getting to the platform, you will see that it is a pretty simple platform to explore. The page elements are well layout out to make it easy for anyone to understand and start working right away without any tutorial or prior experience. InflueNex has a pretty user-friendly interface both on desktops and on mobiles.
InflueNex has awesome type of filter conditions that makes it super easy for you to accurately locate the influencer that is best for your campaign. The platform has several categories, languages, price ranges, and many more filters you can use to narrow down your search.
The result brings exactly the things that you need to decide on which influencers to choose, including the number of subscribers, number of views the channel has received, the number of YouTube videos he has, and the number of likes the channel has ever generated. This is a great help to choose the right YouTube influencer for your business.
This is one of the unique features that give InflueNex its advantage over other influencer searching tools online. It has a rating system that primarily provides an analyzed score for each channel. The score is determined by the popularity and reach of the YouTube channel.
InflueNex has a feature that allows you to manage, track, and analyze your campaign as it provides you with multi-dimensional data analysis to further help you make an objective decision. With this feature, you can track the growth of the channel over a period of weeks or months. You can see a graph of how the last 20 videos of the channel are performing, as well as how much views the videos get on a daily or weekly basis.
Nicely Built Messaging System
The platform offers a message option that allows you to easily communicate with the influencer via email. There is also a group message option available for you in case you want to message a bunch of influencers at the same time. You can also find an email template right on the message dashboard in case you are lost on what to send to your prospective influencer.
These tags are keywords that help you to easily identify what type of audience the YouTube channel has.
How to Find Influencers with InflueNex
InflueNex is an easy-to-use tool and finding Influencers on it also straightforward as seen below:
 Step #1: Visit InflueNex website to create an account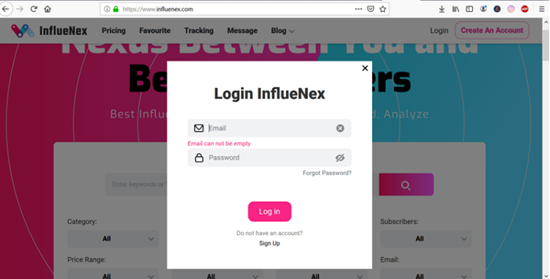 Step #2: Enter the right keywords to find the best influencer for your campaign
There are specific influencers that work best for your industry and your type of business. Enter the relevant keyword and influencer suggestions or an exact match would be shown to you.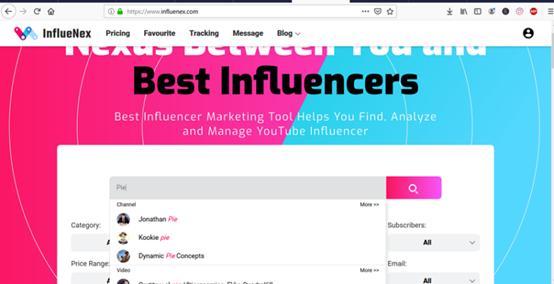 Step #3: Use the filters if you are not sure of the name of the influencer and want to discover more influencers
You can filter based on the category, country, price range, language, subscribers, views, and contact. That way, it then becomes easier for you to find your influencers.
Step #4: Many influencers will come up on the result page
You can now navigate over the results as you check the full profile analytics of the influencer. You only need to click on their tab to check them out.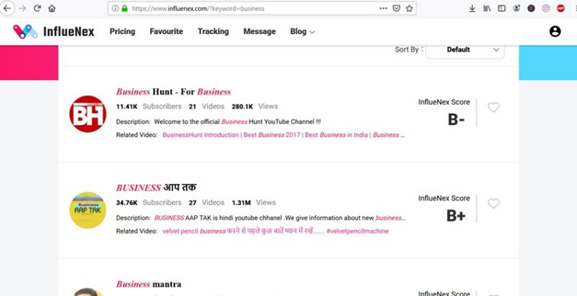 Step #5: After going through the profile analytics of the influencers, you can now connect with the one that best suit your needs
While accessing the profile of the influencer, you will see a "Send Invitation" button that allows you to message the influencer and get a conversation started.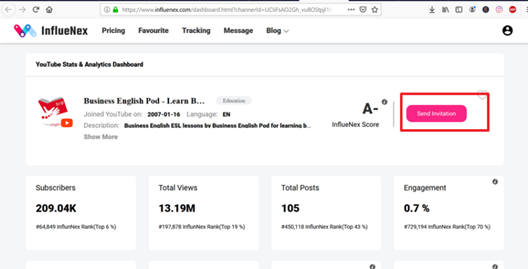 Step #6: When you click on the Send Invite Button, you will be directed to the Patent section
Here you will be required to mention the product you wish to endorse, including the product information, URL, business name, email subject, and the details of what you want. Ensure you are have provided the right information before you finally click the "Send" button.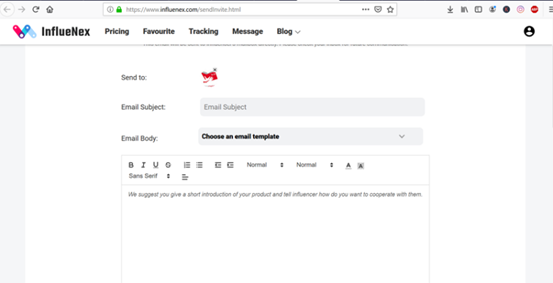 Why InflueNex Is Your Best Choice for Finding Influencers
More than any other influencer-finding tools out there, InfleuNex provides amazing benefits that cannot be rivaled by any other tool. If you are looking to launch an influencer campaign that will take your business to the peak and help you generate the best ROI ever, then InflueNex is your best shot. By just filling in keywords or using the multidimensional filter search, you can get the right influencer that best suits your marketing campaign. Below are some of the amazing benefits InflueNex offers and why it is your best choice.
#1: The rating system of the platform makes it super easy to find the right influencers
Just as we already discussed, the excellent rating system implemented on the platform makes it very convenient to search and find the right influencers for your business. InflueNex rates channels on the basis of the number of subscribers the channel have, number of views, video, and how frequently they post videos. All these will be helpful for anyone to make a decision.
#2: You can message influencers directly
On this platform, it is very easy to communicate directly with the influencers just by the click of a button.
#3: Comprehensive visual charts further simplify the job
Every data provided on the platform are provided as a visual chart. So you do not need to bother your head about forming a separate database, the super-efficient tool has done all the hard work and also presenting you the result in easy-to-understand charts.
#4: Helps you use the tags to make search faster and easier
Video tags are no doubt, one of the essential factors that help a video rank in YouTube algorithm. You can use that to your advantage by quickly cross-checking if the audience of the channel actually matches yours.
#5: You can contact influencers in batches
InflueNex takes off the stress of having to contact the influencers individually. It makes it possible for you to contact several influencers in just a single batch. There is no better way to fast track your search and help you reach more influencers at once.
 Bottom Line
Influencer marketing is indeed a great marketing strategy if properly planned and executed with an informed mind. It also has to be properly managed in order to get the most out of it. All these are not that easy. But with the all-in-one user-friendly InflueNex software, all the operations can become super simple and objective. If you are looking for a way to take your influencer marketing to the next level, this is just the right tool for you.