It's fun to work in small spaces. You won't need to move too far when you need to do something because everything is almost easy to reach. Another good thing about having a small space is how you'll decorate it. It's also fun and exciting to think of ways on how you can maximize the space
Of course, the decor depends on how you'll use the space, but if you recently happen to add a one-bedroom granny flat in your current house, then you might need some tips on how to decorate.
Granny flats are additional spaces, or also known as "accessory dwelling units". They can function alone even without access to the main house. They usually have their main door which is perfect if the owner of the property decides to have the space rented.
So whether your granny flats are detached or attached, you'll need an entirely new vibe for the decorations. If you want to know the essential things you need when decorating a one-bedroom granny flat, then you should check the list below!
1. Lights
Lights can make or break your overall design. If you want a gloomy or light mood, it can depend on your lights. You should get small lamps for a romantic set-up, ceiling lights for everyday use, and adjustable ones which you can change once in a while.
Of course, you should consider the size of granny flats when choosing the right lights. For a small space, you can opt for lamps that can make the place look bigger. Don't worry, you can create your lighting depending on your taste.
In addition, you should have different lights in each room. You can make the room dimmer, while the kitchen and living room are brighter.
2. Narrow storage cabinets
Have you ever seen those narrow cabinets placed on the corner of the house? They're a great idea for granny flats because they don't take too much space but you can store as many as possible because they're tall.
In addition, there are many different kinds of narrow cabinets to choose from depending on the material and design. You can buy glass or wood, and open or with doors.
3. Paint
For small spaces, you can choose to have a lighter color palette so that the place will look bigger. In addition, it'll be easier to choose furniture and other decorations when the paint of the space is not complicated.
Just like the lights, paint also has an impact when it comes to ambiance and mood. For example, if your choose to paint neutral colors such as white and cream, you can easily place a couch with a color that pops like red or blue.
In addition, if you want to change your things, you won't need to repaint more often when the paint can be matched with anything.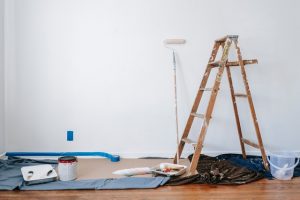 4. Dual-purpose furniture
Can't add enough furniture to your granny flats? You can focus on buying dual-purpose furniture. There's a wide range of options you can find at home shopping centers. You can buy a table that can be folded into a chair or a sofa bed.
Nowadays, there are a lot of pieces that are specially made for small spaces. The most popular piece of dual-purpose furniture is the hollow chair or ottoman that can also serve as storage.
5. Loft-type bedframe
You may have seen the famous loft bed. It's a tall bed frame where you can talk underneath it. Usually, homeowners put a study area or entertainment set below the bed frame to save more space.
Loft-type bedframes are great for granny flats. Aside from the mentioned uses of space, you can also make it a storage area, dresser, or just hang a hammock. You can be as creative as you want to maximize the use of your space.
6. Dividers
Dividers can make the place organized because they can also serve as storage cabinets. You can place your things on both sides of the divider to save more space. With that, you won't need to have other cabinets on the other sides of your place.
Just make sure that the divider you'll get is not awkward when placed at the center of the space. Let it serve as an additional decoration.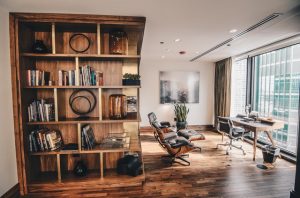 7. Hanging shelves and racks
Does the place look cramped enough? Then you should install hanging shelves and racks to save more space. Aside from that, it can also say a lot of things about your personality such as being elegant and minimalist.
Besides, you should not hesitate to add more things to your wall. It'll also be easier to find things because you don't need to put everything in your cabinets.
Are you excited to decorate granny flats? Well, you should! It'll be fun and exciting to find the right pieces to complete the look of your space. Don't forget to share with us how your project turns out by leaving a comment below!