Chatbot technology is creeping and strengthening its roots in every possible business vertical to leverage automation at its best. This is true with the advertisement and online paid marketing industry also. The potential audience are getting served with ads to which they can interact through textual chatting options provided by AdLingo.
These conversational Ads is a game-changer move which is an active part of Area 120 by Google. With this automation tech, the users are empowered to resolve their queries without clicking the advertisement and browsing manually through catered information. Brands can integrate their trained chatbot and observe a higher conversion rate through this form of futuristic advertisement.
What is AdLingo & How it performs?
AdLingo is a platform that makes business advertisement lively in the practical world by injecting AI-based chatbot in google display ads, which are featured across partner channels. This way, Google provides an Ad space for AdLingo to allow a business to integrate their conversational AI and entertain their audience by instantaneous reply before visiting the business page.
Practical benefits of AdLingo Ads:
Greater Insights
Data is more valuable for marketers to understand what users intend to get, which makes them target more potential audiences and understanding current trends. With AdLingo Ads, your chatbot will be mining user queries, concerns, and their intent, which can be leveraged for a more specific approach concerning various demographics and ad verticals.
Instant answers
Internet is a birthplace for instant answers, and with conversational ads, your targeted audience can avoid clicking and visiting your website to find a relevant solution. The chatbot will resolve their issue in the ad window, thus saving time and effort. This uplifts the chances of successful lead generation techniques.
User has the leash
Unlike textual ads where business drives the flow, with conversational Ads user has the authority to lead the flow according to their interest and concerns.
Stand out in the advertisement world.
Online marketing is all about a unique approach. With AdLingo, you cater a whole new user experience that is delightful, interactive, and offers a promising chance for your business to stand out from the rest of the crowd.
Personalization
Generic ads offer a very shallow level of personalization compared to conversational ads, where your AI can deliver more of a customized human touch. This includes warmly welcome, multilingual approach, feedback, and also a query escalation if necessary.
Scale Bigger
As we know, Google dominates the advertisement industry with thousands of ad partners dispersed globally. You can leverage these platforms for a better reach and scaling of your bot enabled advertisement campaigns. This will increase reach and brand awareness in your business domain.
A high rate of conversion
Whereas website and static ads are inclined towards a non-lively approach, chatbot Ad integration is a proven way of providing a more convincing form of advertising medium where budget invested is truly justified by observing a higher lead conversion rate.
How to integrate AdLingo?
All you must have is a good working chatbot & a Google AdWords account as the prerequisites for unleashing your conversational Ads. Later you can contact AdLingo by clicking here, which will allow you to configure ads and chatbot. Unlike Chatbot for WhatsApp it do not require any kind of API. Your business will be charged according to the number of ad impressions. A live demo of AdLingo chatbot is available on its website, which gives you an idea regarding the look and feel of how a chatbot enabled ad gets displayed to a user.
AdLingo Case Study:
Kia Motors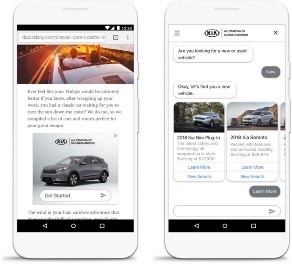 Valassis ran an Ads Campaign for Kia, which outperformed by getting inquires about new car specifications, on-road pricing & booking appointments for test rides. The lively interactive ads were happily welcomed by their satisfied audiences & fan base, which is a great success for AdLingo Ads.
Cadillac Motors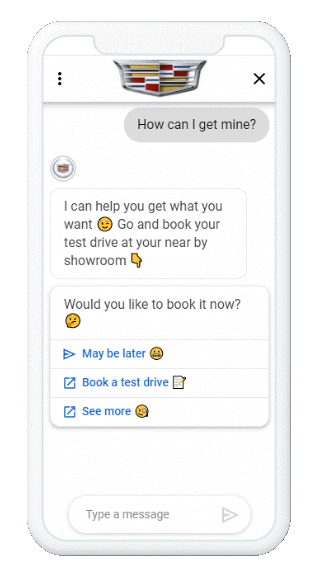 Cadillac leveraged conversational Ads for marketing their newly launched luxury car model named XT6. The campaign targeted the UAE audience & the AdLingo Chatbot was made by Kevit Technologies. The key objectives were to build awareness among car fans & attract potential buyers in gulf countries. It was also a big hit and generated surprising results for Cadillac.