Today, the Internet of Things is a wild frontier that already affects the lives of ordinary people and improves the workflow of businesses but is at an early stage of development. Small computers, like Raspberry Pi, allow developers to turn any object into a part of the Internet of Things. Thus, IoT provides automation that may increase the revenue of businesses. In this post, we will talk about the most favorable IoT trends in 2020. So, if you want to stay on top of IoT development tendencies, stay tuned!
How Does IoT Impact Businesses?
To begin with, let's get through statistics that state that IoT can be useful for every business sphere. Here are the benefits that IoT brings to entrepreneurs:
That's definitely impressive. Also, I have to mention that the number of IoT devices is growing rapidly. In 2015 there were only 10 billion devices connected to the Internet, while in 2020, there's almost 31 billion. A recent survey shows that 93% of executives believe that IoT can be beneficial to businesses, despite its risks. 
With this information, you can understand that IoT's trusted among companies and already brings advantages and increases the revenue of businesses.
Internet of Things Future Trends
Now, let's get acquainted with IoT a little bit closer, discover predominant trends on the market, and go through the pitfalls that deserve attention.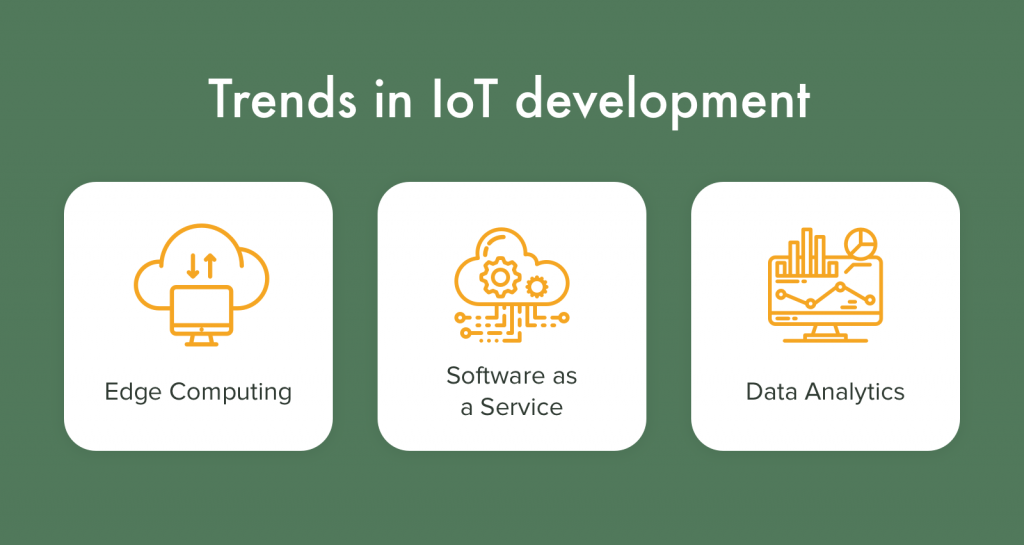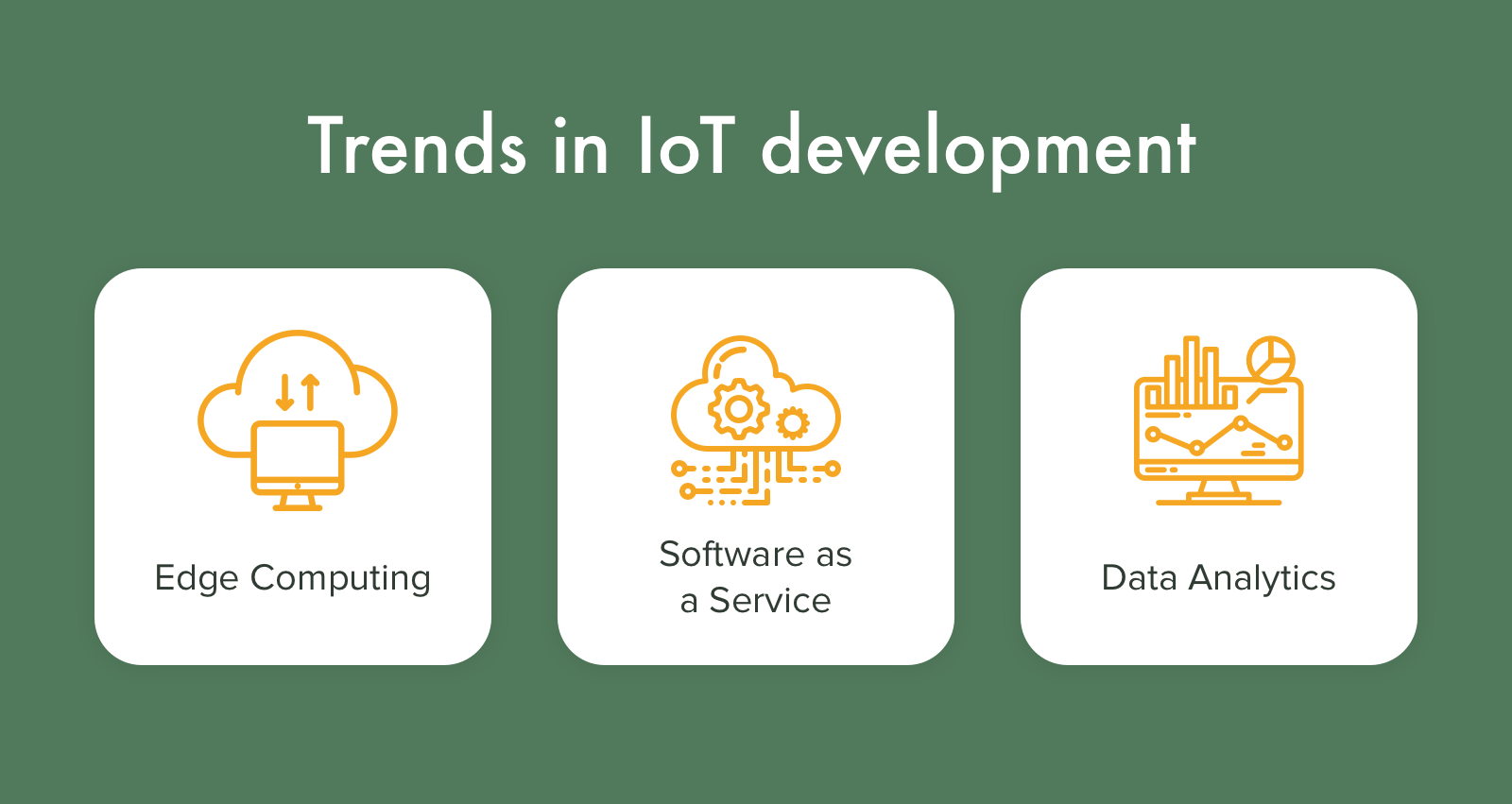 Edge Computing 
Cloud computing is applied in IoT to store, share, and analyze the data effectively. However, the number of devices grows fast, and soon cloud computing will need some reinforcements. That's where edge computing can be applied. 
Edge computing is a distributed framework that can bring computational processes and data storage closer to the place where it is needed. In other words, the distance between devices and data will be reduced. That will improve the response time and reduce the load on the network. 
However, this trend can bring some cybersecurity issues because distributed devices have more vulnerabilities than organized cloud storage. 
Software as a Service
Software as a Service(SaaS) is a cloud-based service that grants access from any place with an internet connection. SaaS solutions don't have to be installed and can be accessed from any browser. 
Despite the convenience of SaaS, it still has some security issues that may lead to data leaks. So, when choosing a SaaS provider, make sure that it is reliable and complies with every security regulation.
Data Analytics 
Managing and analyzing the data flow from IoT devices is another valuable trend. Machine Learning, Big Data, Artificial Intelligence play vital roles in the evolution of IoT.  
Actually, there's a lot of ways to implement the IoT for data analysis. For example, some companies set small sensors all over the office to gather data on employee workflow, performance rating, and so on. Later, this data is analyzed and is used to help employees work more efficiently.
IoT Business Opportunities
There's a wide range of ideas that can be used to build a business or a startup. I've chosen the most promising and innovative to share them with you. Here they are: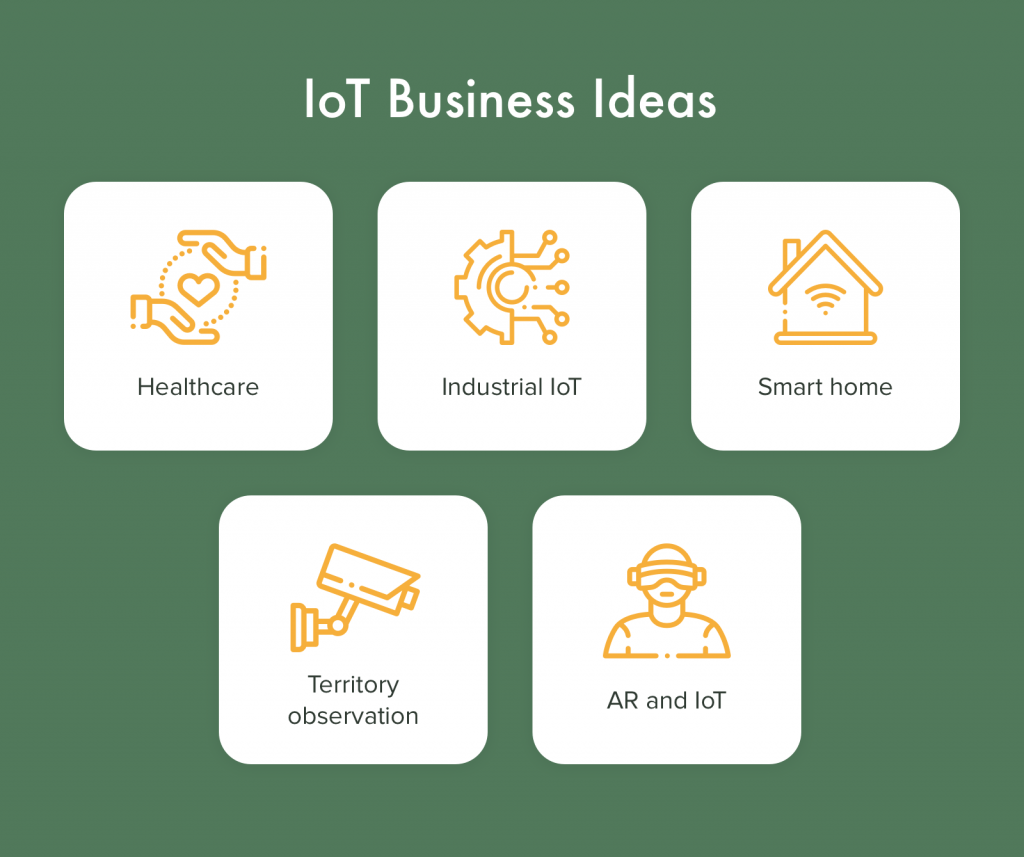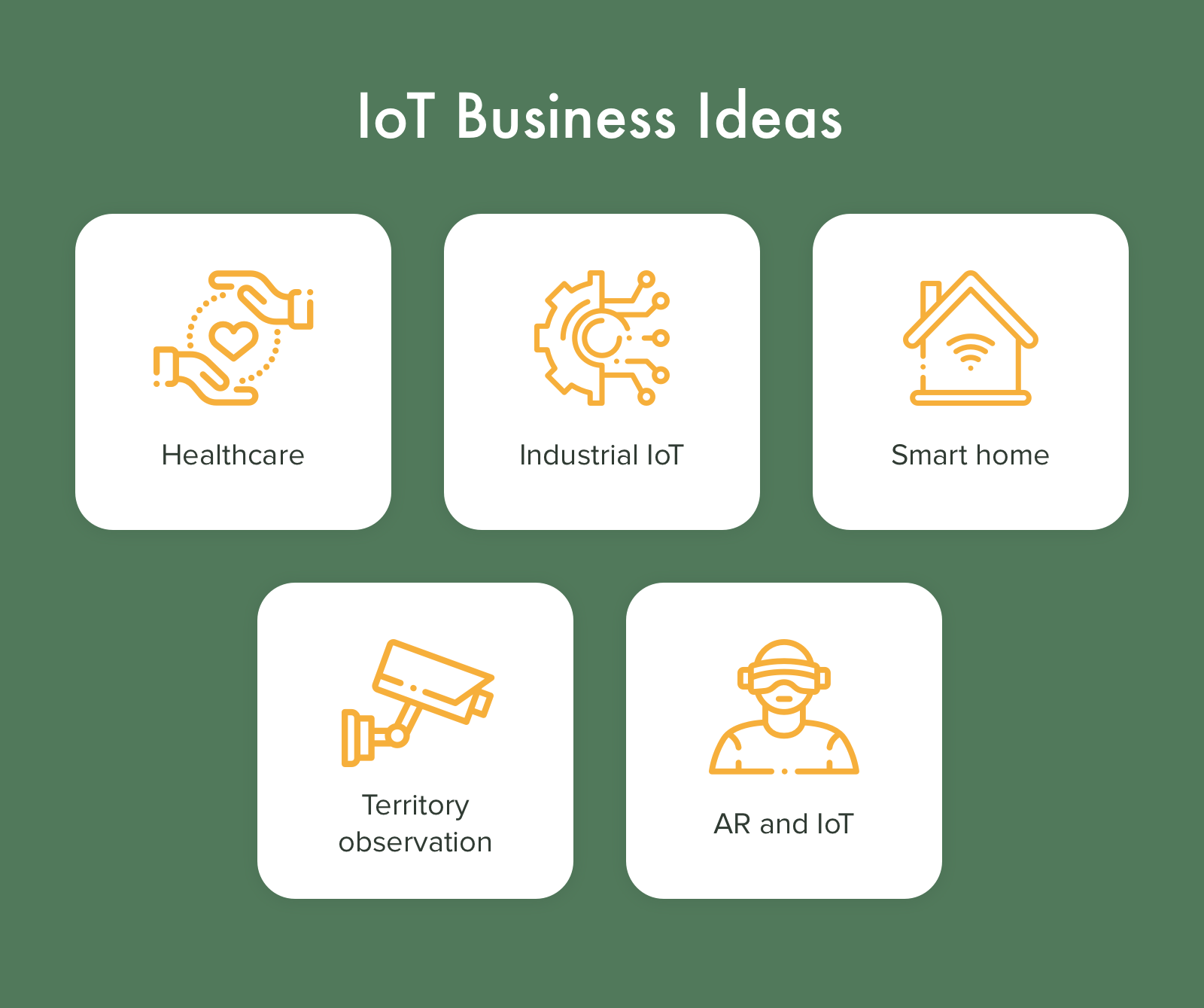 Healthcare
A wearable device connected to the IoT system can do much more than just count your steps. The most common use case is passing your heart rate to healthcare providers in an emergency occasion. Moreover, some physicians arrange online appointments. With the help of wearable devices, they can monitor your heart rate, smart scales provide information about your weight, and the overall inspection can be held via a smartphone camera. 
However, this sphere requires you to invest a lot of time, resources, and efforts. Firstly, for the convenience of both sides, you have to develop a mobile app that operates with healthcare data. I'd recommend hiring the services of an outsourced healthcare app development company, because they usually charge less than the US, Australian, or Central European developers. 
On top of that, make sure that the company knows how to comply with the Health Insurance Portability and Accountability Act (HIPAA). This act protects patients' personal data so that any violation will lead to significant penalties. 
Still, healthcare is a suitable niche for investments because it solves a lot of everyday problems and lets you simplify the lives of ordinary people.
Industrial Internet of Things
If you're out of ideas for your business, try to solve a common workflow problem with the help of the Internet of Things. If you provide a useful solution, your product will have great success. For example, IoT sensors can detect where the breakdown occurred and trigger a service group automatically.
Smart Home
Today's level of IoT development allows ordinary users to connect every device in their house and make them work together. With the help of specific devices, you can turn your "dumb" alarm clock, lights into smart appliances that can communicate with other devices. 
On top of that, smart speakers became very affordable and can be placed all over your house to control every smart unit. For example, you can adjust your lamp in the living room to turn on when sensors detect the movement in front of your door. The scripts for smart homes are limited only with your imagination. A variety of scenarios and a vast range of home appliances that can be replaced leaves a lot of room for growth in this field. 
Territory Observation
When it's needed to monitor a large space, IoT comes to the rescue. If you're into farming, IoT devices can detect soil contamination, humidity, and control the water supply. In many countries, farmers use drones to fertilize the plantings. With the help of IP cameras, you can monitor the condition of crops and vegetables and notify farmers about the harvest time. 
Talking about drones, they can be an effective tool for monitoring hard-to-reach locations or large areas. For example, drones equipped with thermal sensors can detect leaks in steam tunnels. 
Augmented Reality and IoT
IoT and augmented reality form a great duo. While IoT serves as a bridge between physical and digital assets, AR brings digital elements to the real world. 
This combination has a big potential in healthcare. Surgeons, for instance, can use AR to reconstruct a body part in 3D, while IoT devices measure a health condition and transmit the data to the AR headset. It makes complicated surgical operations easier for surgeons and safer for patients. 
AR and IoT can also be used for maintaining equipment in places with dangerous working conditions or in distant locations.
Wrapping Up 
IoT innovations are meant to make our lives easier and more convenient. 2020 may become the year of IoT prosperity, so don't miss your chance to become a part of this trend.