Are you looking to learn about the unrevealed technologies integrated into the new iPhone 8 and iPhone 8 Plus? We've got you covered!
In less than a year`s time, Apple has made the world is crazy with its recent launch of iPhone 8 and iPhone 8 plus — along with the iPhone X. Since 2007, Apple has been re-shaping the landscape of mobile phones forever more. Now we're 10 years on and Apple massively revamped the iPhone lineup with the new iPhone 8.
Take a look at the key details of the iPhone 8 and iPhone 8 plus, but first, here are some quick links to help you navigate to all the other new products Apple launched.
iPhone X
Apple Watch 3
Apple TV 4K (5th-gen)
Whether you're looking at new software updates, camera features, or design changes, here's absolutely everything you need to know about the iPhone 8 and iPhone 8 Plus.
iPhone 8 Pricing
Both these models of iPhone 8 and iPhone 8 Plus offer two different storage options, meaning there are a handful of price points to take in.
iPhone 8 costs £699, SIM-free for the 64GB version, rising to £849 for the 256GB variant.
Things get even more eye-watering: when you shed some light on iPhone 8 plus, including 64GB Apple phablet with a cost of £799. The 256GB model going for a whopping £949.
iPhone 8 Specifications and Design
Featuring a raft of new specs in both the models – launched recently. Also, a slightly tweaked look.
Both the models now feature a glass back and front. However, Apple`s comment over the glass is "the most durable glass" in the smartphone world. Though they haven't revealed quite what this means. More interestingly, the glass back paves the way for the pair of support Qi wireless charging, which represents a major step forward in the iPhone history.
You can expect iPhone 8 plus is the larger of the two devices, with a 4.7-inch Retina screen, while the iPhone 8 Plus measures a larger 5.5 inches. However, they stop short of featuring an OLED screen, as some had predicted, and instead retain the same IPS screen found on older iPhones. The 3.5mm headphone jack is still gone, though, which may continue to irk audio buffs.
Then comes the Apple's new A11 Bionic processor, which involves a host of performance benefits. Alongside, in terms of camera specs, the iPhone 8 features a 12-megapixel primary camera, whereas the iPhone 8 Plus features a more impressive dual-lens setup that pairs a 12-megapixel rear ƒ/1.8 lens with a telephoto ƒ/2.8 lens.
Below table describes the features and a full rundown of the iPhone 8 and the iPhone 8 Plus Specifications: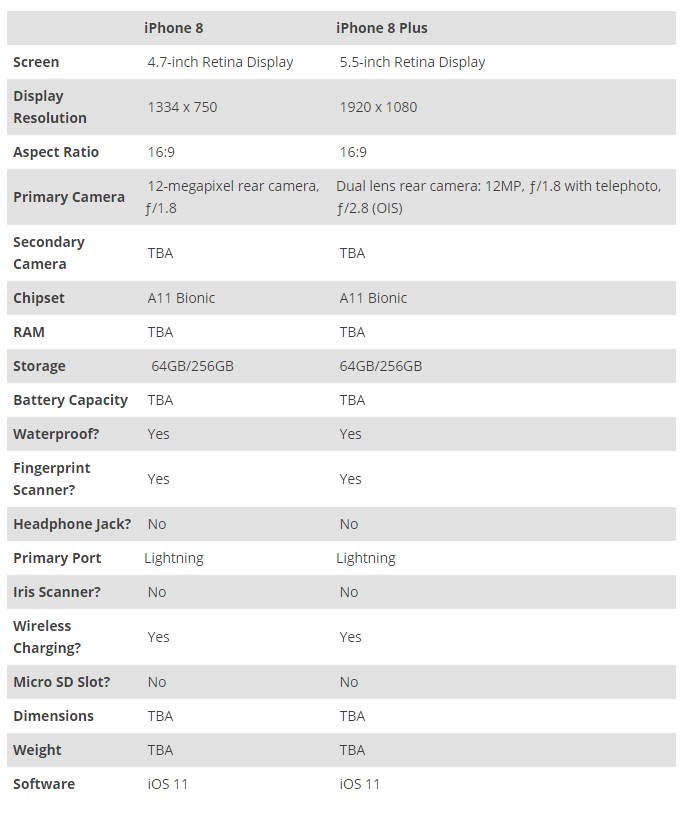 iPhone 8 Operating System – IOS 11
An annual WWDC conference held in June, Apple showcased the latest version of its mobile and tablet operating system: iOS 11.
iOS 11 set its launch date i.e. September 19, 2017. This means that both the iPhone 8 and iPhone 8 Plus will ship with Apple's latest software. Moving on, there are plenty of upgrades coming with iOS 11, including an update to Messages. In iOS 11, the mainly focus has been made on apps and stickers, featuring a redesigned app picker. Also, cloud syncing in iOS 11, allow you to derive messages from an old phone to a new phone.
The most important feature is a digital assistant – Siri is getting a new voice that makes her much more lifelike too. It's a clear bid to tackle growing competition from rivals like Amazon's Alexa and the Google Assistant. She'll also be able to translate your voice and speak out the response. Other changes include updates to the camera and photos, a redesigned control center, and modifications to Maps, Apple Music, and the App Store.
Experts Guide
There are plenty of reasons to wait for the iPhone, so here's our advice:
Gionee to launch its high-end phone Gionee S10 by September
iPhone 6 Users
If you're using the iPhone 6S (or something older) then you'll definitely want to wait for the iPhone 8. Apple's next handset ushers in a significant redesign, and so if you're coming to the end of a two-year contract, it's absolutely worth waiting for.
iPhone 7 Users
If you have the iPhone 7, you probably won't need to upgrade. Unless you're a die-hard Apple fan. It probably not going to be worth the leap. Even considering the fact that the iPhone 8 offers a handful of major changes, the iPhone 7 is still a capable handset by modern standards. However, iPhone X would become an ideal choice for iPhone 7 and iPhone 7 Plus customers.