Make the best out of a trip to Hawaii with a multi-destination itinerary focused on two of the region's best islands. With a little planning, you can expand your Hawaiian horizons by enjoying the fantastic amenities and attractions of the Big Island of Hawaii before escaping to the jungles and sweeping mountain valleys of Kauai.
The easiest way to reach this outdoor playground in the Pacific is via a flight from a West Coast city to Hilo International Airport on the Island of Hawaii. This island-hopping adventure could even be a side trip incorporated with a California vacation – a few-hour plane ride is all that separates the western mainland. 
Snag a flight out of San Francisco, and you can be rocking in tropical surf in less than a day. Suppose this quick trip is on a whim (as all Hawaiian vacations should be). Before you head to the airport, drop off extra baggage at a luggage storage shop in SF, and you can hit the beaches with only what you need.
First Stop: The Big Island
You've landed. You're here. Hilo International Airport offers a variety of ground transportation options, so it should be easy to reach your next destination. Since this will be a bouncy visit, one-way trips are probably the best way to go. Taxis and shuttle services can get you to nearby hotels and hotspots; no rental cars or parking-spot searches on this island adventure.
Lodging on the Island of Hawaii
Keep it simple and zone in on lodging in Hilo. That'll keep you close to the airport and lots of the Big Island's best attractions. This island isn't just merely a stopping point; it's got a lot to explore between jumps.
The Inn at Kulaniapia Falls is a unique and tranquil spot to settle in for a night or two. This is not a typical chain hotel; here, you'll experience some traditional Hawaiian hospitality. Cozy up in a rustic cabin or stick with a standard guest room, and you'll also have access to the inn's breathtaking grounds and an outstanding farm-to-table restaurant.
The Hilo Seaside Hotel keeps it simple, with nice amenities and a location near the airport. The hotel's within walking distance of some of Hilo's top attractions, including parks, marinas, and golf courses.
Before You Go
Spend a day touring the sites around Hilo before leaving for the next leg of your island excursions. Divers will be at home at the Nautilus Dive Center, and novices can take lessons. If weather permits, wander through the Hilo Farmers Market and scoop up fresh produce and handmade goods. If there's still some room, secure some lunch items at the Suisan Fish Market, which serves up fresh seafood and side dishes through mid-day.
Getting in a round of golf should be easy on the Big Island, especially near Hilo. The Naniloa Golf Course is just a couple of miles from the airport, and offers views of Kuhio Bay. For a little more time outside while you're in the neighborhood, make a beeline for the Liliuokalani Park and Gardens. This small and scenic park is very walkable and has some pretty special features.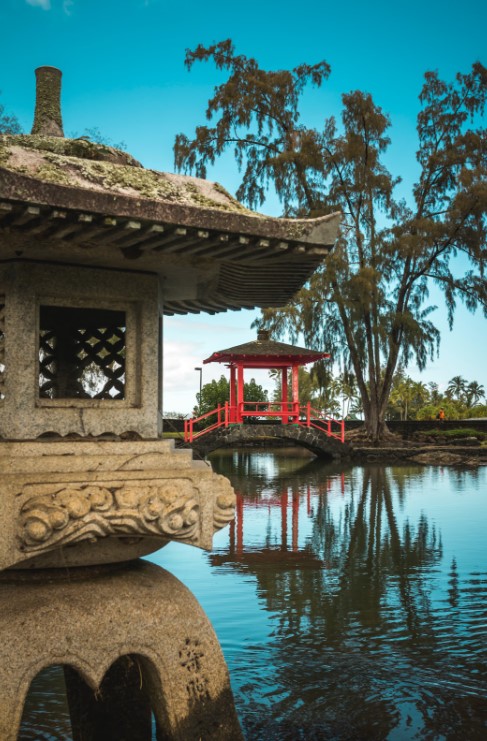 Hop a Flight to Kauai
Head back to the Hilo International Airport for a 30-minute flight (private or commercial) to Kauai's Lihue Airport. Once you've landed, you can take a taxi or shuttle to other points nearby; however, it's probably worth renting a car, you know, for the hopping part.   
Choose Your Island Adventures
The island of Kauai might be on the small side, but you'll need more than a day to experience its best attributes. The island is divided into a few primary regions, each offering unique features and atmospheres.
East Side
Near the Lihue Airport, Kauai's East Side offers lots of accommodations and city amenities. Resorts and a few chain hotels pepper the eastern landscape, so it should be easy to find a place to stay here.
There are lots of beaches to check out in the area. The terrain is a bit rocky in places, with craggy coastlines bordering sprawling sand beaches. Kalapaki Beach is a happening hub of water recreation in the region. This developed beach features restrooms and picnic tables, and it's a popular destination for surfing and stand-up paddleboarding. Pack light; rental gear's available on-site
North Shore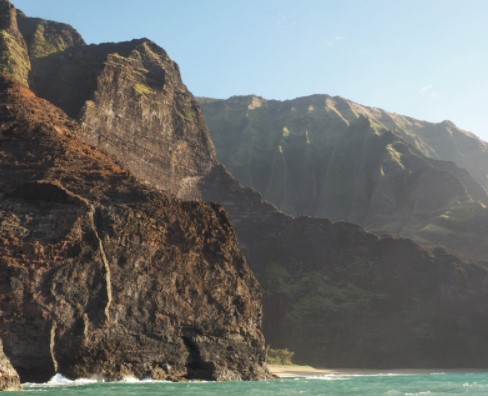 Set your sights on the North Shore if paradise vibes are what you seek. Home to the island's Napali Coast, this region's scenery is surreal. Helicopter tours are popular here and offer awesome aerial views of the uncharted terrain below.
Hanalei Bay is another excellent spot to check out on the North Shore. Head to the historic Hanalei Pier for some saltwater fishing, or swim in the calm waters nearby. 
The North Shore's the place to stay if you're hoping for variety in hotel accommodations. This popular region has beachfront suites, elaborate tropical resorts, and cozy, cost-friendly options steps from all of the action. Want to post up in a plantation-style cottage? You'll have a couple to choose from here. Prefer to stick with the standard hotel/motel scene? You'll find several on the North Shore.
South Shore
Kauai's South Shore's where to go for wildlife-viewing opportunities and family fun. Poipu Beach Park is perfect for kids, with shallow swimming areas and calm waters. The underwater landscape offers ideal settings for snorkeling and bodyboarding, and surfing conditions are usually good here, too. 
The South Shore's also home to some interesting cultural spots, including the Old Koloa Town, with galleries, shops, and small-town sights, and the Kauai Coffee Plantation, offering open-air truck tours that take guests on a bean's journey from seed to coffee samples.
There are lots of unique lodging options in Kauai's South Shore. The region's low-profile structures limit hotel sizes, so there aren't many chain options in the area. Condos, beach cottages, and bed and breakfasts are the most common accommodations on the South Shore, with most options located near Poipu Beach.
West Side
The West Side of Kauai is the perfect place to wind down in natural settings. Between the range of hiking trails at Kokee State Park and the 100-foot dunes of Polihale State Park, there's lots of natural space to explore.
The West Side might be the best side when it comes to Kauai accommodations. Most lodging options here aren't mainstream, so visitors will have the opportunity to experience some unique settings (think oceanfront plantation cottage). A couple of standard hotels are in the area, so those seeking some continuity in their experiences will still have some choices.