Experience the extraordinary world of John Travolta house near the airport, in Ocala, Florida. This luxurious residence, set on 9.5 acres of picturesque countryside, blends Hollywood glamour with aviation dreams. With direct access to a 7,500-foot runway, imagine the thrill of watching your private plane land just steps from your elegant home.
Purchased in 2001 for $3.5 million, Travolta and his late wife embraced the charm of the Jumbolair Aviation Estate, a fly-in community spanning 550 acres of stunning Florida landscape. The John Travolta House is an exceptional home that will appeal to aviation enthusiasts, luxury lovers, and all those looking for something unique.
With its seamless blend of Hollywood glamour and aviation convenience, this estate offers a lifestyle that is unparalleled and truly extraordinary. Come with us to experience the John Travolta House, a luxury paradise where opulence, aviation, and the natural wonders of Ocala, Florida come together.
Aviation Luxury Redefined – Inside John House
John Travolta prioritizes his aircraft, and it shows in the remarkable additions to his house. This impressive estate boasts five bedrooms, five-and-a-half bathrooms, a swimming pool complete with an indoor cabana and bar facility, along with its own private control center. An extensive 16-car garage adds the finishing touch to this luxurious residence.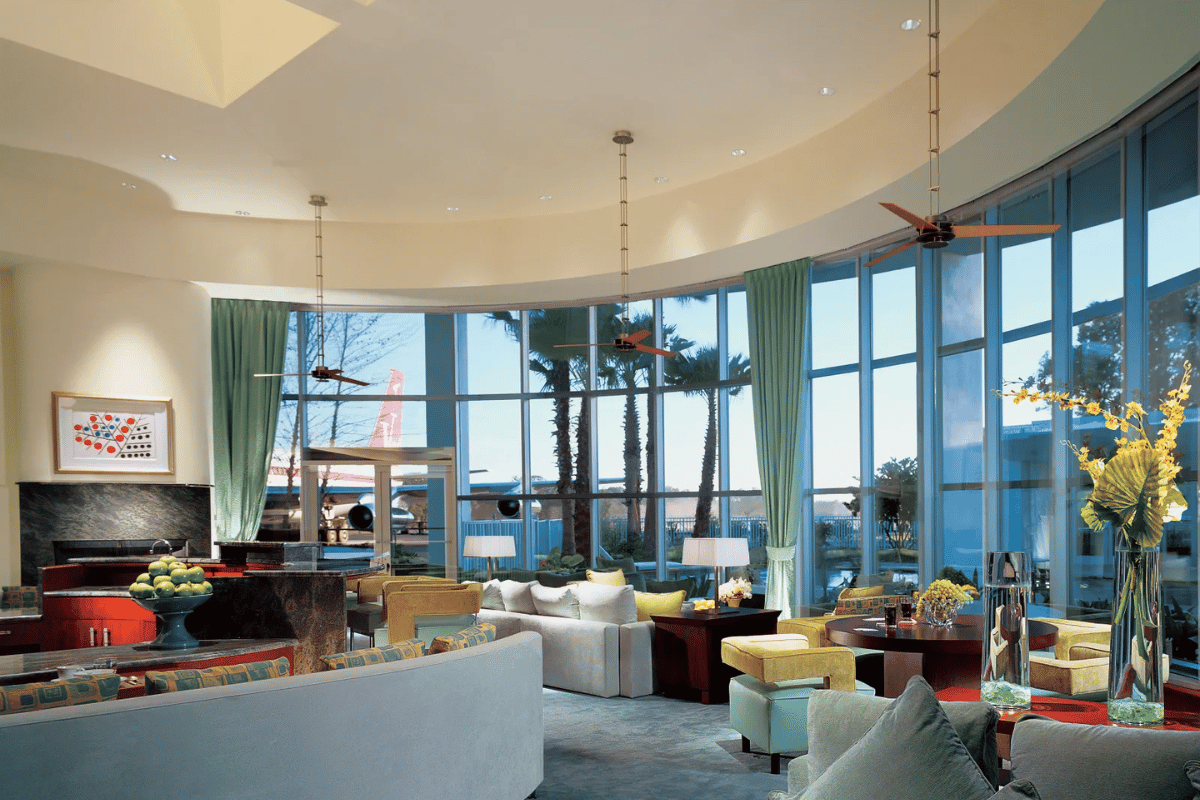 Every detail provides ultimate comfort and convenience for Travolta and his family. Travolta's real estate portfolio is just as noteworthy as his career. His properties include villas in Calabasas (2019) and Clearwater, plus a traditional island estate in Maine since 1991. He recently listed the island home for $5 million, demonstrating his ongoing real estate ventures.
History and Architect of John Travolta's House
John Travolta's house was once owned by Muriel Vanderbilt, a well-known socialite and equestrian. It has now been transformed into a stunning and private sanctuary. The property has a functional airport that is exclusively used by Travolta and has two parking bays that are reserved for his personal Gulfstream jets.
The extended taxiway provides ample space for his fleet of planes, including a Boeing 707-138, USAir Boeing 707, and a Bombardier Challenger 601.  John Travolta's house, designed by Dana Smith, showcases remarkable architectural brilliance. The house radiates a sophisticated corporate vibe with its pristine white color and strong concrete structure. It features grand Grecian-inspired columns and numerous floor-to-ceiling glass windows.
The highlight of the house is its expansive rear area, where you'll find a combination of a hangar, pool, and hot tub. This space creates a resort-like atmosphere, complete with a thrilling slide for the adventurous and an open patio for relaxation. Adding to the elegance is a beautifully crafted dance floor and a cabana designed like a vintage airport lounge. The residence is adorned with several balconies, enhancing its overall charm.
The Splendor Within John House
As you step into John Travolta's house, you'll feel a timeless atmosphere of sophistication and class. The entrance hall catches your attention with its impressive floor, personally designed by the star himself, showcasing a beautiful nautical compass pattern. Inside the hall, you'll find a wooden cabinet filled with model airplanes, a nod to Travolta's love for aviation that led him to become a licensed pilot at the age of 22.
The residence exudes an aeronautical elegance, boasting custom hardwood floors and carefully placed recessed lighting that adds to the captivating ambiance. Adorning the walls are artworks that pay tribute to Travolta's passion for aviation, including a painting of his cherished Learjet from 1989. With many windows throughout the house, you'll enjoy breathtaking views of planes from almost every room.
The centerpiece is the "great room," which evokes a bygone era of travel. Its curved window walls with flowing blue curtains open onto the tarmac, blurring the lines between indoors and aviation. The room features sophisticated furniture from renowned designers such as Greeff, Schumacher, and Duralee.  Travolta embraces the eccentricity of his property, reflected in an Alexander Calder artwork (1967) over the striking black marble-like mantelpiece.
Exploring John Travolta's House
Step into this magnificent residence that exudes a captivating blend of aeronautical elegance. With custom hardwood floors and stylish recessed lighting, every corner showcases John Travolta's love for aviation, including a cherished painting of his aircraft from 1989. The design project, completed in just two years instead of six, is a testament to its grandeur. The formal dining area is a cinematic masterpiece adorned with a mural by Sandra Hilliard, depicting a 1950s family excitedly anticipating their next airport adventure.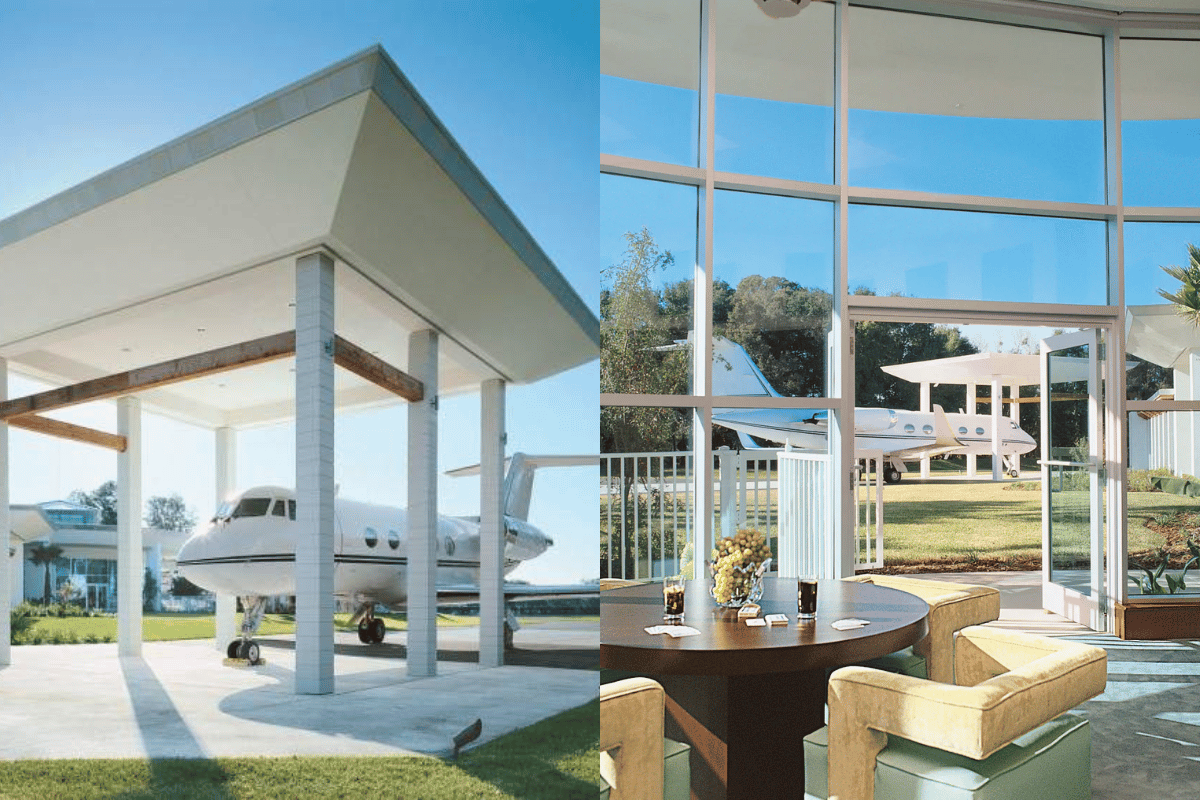 This stunning home features two main kitchens designed to meet all your culinary needs. The first kitchen has an open-concept layout, with floating wood shelves, modern gray countertops, and white walls with yellow dividers. The bedrooms and bathrooms are connected, providing a peaceful retreat. The master suite is particularly luxurious, with crème-colored drapery fabric, cabinets made of brown wood, and opulent rose gold carpeting. The luxurious master bathroom offers a modern and elegant vibe with its transparent shower tiles, marble flooring, and double sink.
A framed poster from the iconic movie "Pulp Fiction" adds a touch of personality to the space. In addition, John Travolta's guests can enjoy temporary stays in the guest house or bed & breakfast quarters for pilots or visitors, ensuring utmost comfort. Whether it's his daughter Ella or son Benjamin joining him on his travels, their welcoming home serves as a true sanctuary for all who enter.
Closing Thoughts
In the realm of luxurious living, John Travolta house stands as a remarkable oasis with an airport at its doorstep. This extraordinary estate seamlessly blends Hollywood glamour with the dreams of aviation enthusiasts. With its direct access to a 7,500-foot runway, it offers the unique opportunity to witness private planes gracefully descend right outside the exquisite residence.
From its opulent interiors and state-of-the-art amenities to the serene surroundings of Ocala, Florida, John Travolta's house provides an unparalleled experience, where luxury and aviation converge in perfect harmony.