Katie Beth Hall is a 17-year old beautiful actress and social media star born in 2005, in the USA. At a very young age, Katie earned immense fame and success in the entertainment industry. She has been featured in Head of the Class (2021), Home Sweet Home Alone (2021), and Bull (2018) to name a few.
Apart from being a great actress, she is also an Instagram star having a following of 23K. She often posts content related to her lifestyle. Katie also has a keen interest in singing, dancing, painting, drawing, and playing piano.
That's not all!
Keep reading the blog to know all about Katie Beth Hall.
Graduated High School At The Age Of 15
Apart from her excellent acting skills, one thing that makes Katie different from other kids of her age is that she graduated just at the age of 15. 
Yes, you read that right! 
This may come as a big surprise to many of Katie's fans, but the teen actress was only 15 when graduated from high school. Instead of traditional schooling, she completed her high school graduation through Cedar Life Academy. 
As per sources, after graduating from high school, she is currently known to study Art and Interior Design in college. Apart from that, she is a great learner and has a keen interest in history, museums, and documentaries.
Martial Arts Student
"Looks can be deceptive" is one of the most popular sayings that holds great significance. We should not judge people based on their looks. And this is true in the case of Katie Beth Hall. Though she looks soft and fragile, she is pro at handling herself in all types of tough situations. 
You will be amazed to know that Katie has trained in Krav Maga which is an Israeli martial art. This martial art technique is a combination of aikido, judo, karate, boxing, and wrestling. 
Great Dancing & Singing Talent
The 17-year-old actress is full of many amazing talents that may stun any normal person. Katie is a lot more than just a great actress, a keen learner, and a martial arts student. 
She also has a flair for dancing and singing. She is also very talented in the musical and dancing department. Katie loves playing piano as well as singing. 
Furthermore, she loves dancing and has been trained in various dance forms like hip-hop and tap. Such a young age and so many talents! My God, this little girl is unbelievable. 
Katie Beth Hall Has Theater Experience
The big screen isn't the only place where Katie first came into the spotlight. She is also a well-known name in the theatre industry.
As per her bio, she made her professional theatre debut as Cathy Krohl in the play: The Hard Problem at Studio Theatre. After that, it was in the year 2018, when she again played the role of Cathy Krohl in The Hard Problem at Lincoln Center's Mitzi Newhouse Theatre (NYC).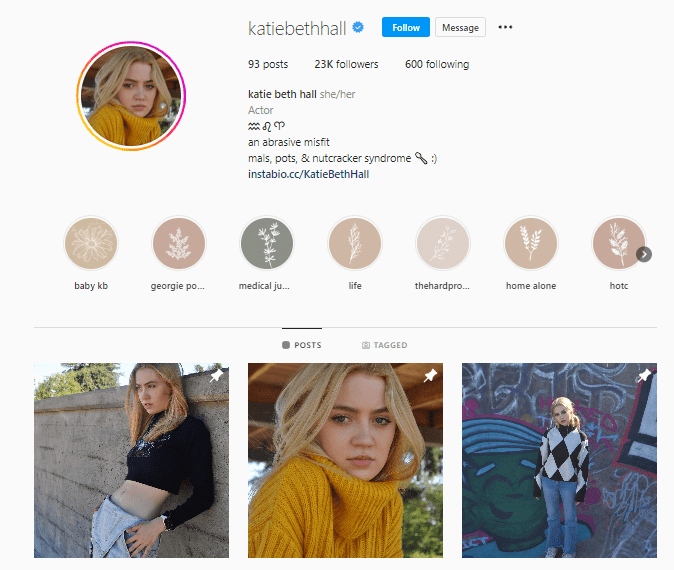 Worked With Famous Personalities
Katie Beth Hall is just 17 years old and she has got the opportunity to work with so many successful and famous personalities across the entertainment world.
She got the chance to work with Sir Tom Stoppard who wrote the famous play, The Hard Problem. Tom Stoppard is a famous playwright who has won many awards and honors like Academy Award and the Laurence Olivier Award. While the play was directed by Jack O'Brien who is a prominent American director, producer, and writer.
Apart from that, she has got the privilege to work with outstanding actors, writers, producers, and directors across the entertainment industry. The list of famous names includes Jon Tenney, Chris Meloni, Christa Miller, Giancarlo Esposito, Bill Lawrence, and so many more.
Her Upcoming Projects
If reports are to be believed, then the talented actress can be seen reprising her role as Young Kim in the final season of Better Call Saul.
She can also be seen portraying the role of Sarah Maris in the reboot of Head of the Class on HBOMAX, and the role of  Abby Mackenzie in Home Sweet Home Alone on Disney+.
A Young Advocate – Katie Beth Hall
Despite being so young, Katie holds a strong personality and is quite opinionated. She understands well what is right or wrong for her. 
She takes a firm stand for different causes and uses her social media account to raise awareness among people. Some of the main causes she stands for include discrimination, bullying, sexual assault, and harassment.
In The End
We have tried our best to provide you with the best knowledge about Katie Beth Hall. Furthermore, the above-mentioned details about Katie Beth Hall have been taken from different sources of information and are true as per our best knowledge. In case of any change, in fact, we are not accountable.