PRITI NYC Natural Nail Polish gives a classy look to your nails with varieties of different shades, and colors. It dries quickly and looks good. PRITI NYC has many different shades of vegan nail polish. The nail colors are very strong and elegant. Only a single coat is required for an opaque finish. It is long lasting and feels good wearing it. The packaging is classy and good.
Nail Polishes are a magnificent way to jazz up your look. You need not worry about the size or fit. Choose the different shades and colors of PRIT NYC Nail polishes to look cool and fancy. You can even create various patterns or designs, it totally depends upon you. There is not much detailing included when it comes to implementing nail polishes but sure there are ways to make it last longer and look neater.

Manufacturers and Developed Formulas
PRITI NYC Nail polish manufacturers have up their game and have developed formulas that offer bright color and shine without becoming brittle. Manicurists make use base and topcoat to make the color stay longer and for the colors to pop.
A base coat is like a base for your nail polish, they are typically less viscous and quick-drying. This semi-viscous liquid fills the smaller grooves and smoothens the ridges in the nails. Often bases dry to give a matte or tacky finish rather than high glossy surface, this texture makes later coats last longer. Base coats are of utmost importance before wearing richly colored and intense polishes as these highly pigmented polishes can stain your nails and only base coat can prevent staining. The stain-preventing base coat is essential for those who change their polish frequently.
Like a protecting sheen, the topcoat goes over the color polish to preserve its color. This clear coat keeps polish from scuffing, prevents chipping and hence increases the life of a manicure. If worn alone, it gives a simple and natural look. Some top shells give a matte or suede-like finish, which you can combine with high shine polish to accomplish tone-on-tone manicures. Specialized top coats also help to hasten dry time and importantly, prevent discoloration from sunlight.
Nail paints offered by PRITI NYC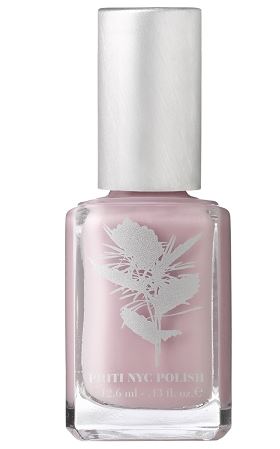 American beauty Vegan nail polish – Red is a class shade that goes well with everything. It is also one of the best selling shades of nail polish. Go for a cool tone red if you are fair and warm orangish-red if you have a wheatish skin tone.
Lady Pink lips vegan nail polish – Shades of pink are versatile. Pale pinks looks neutral on fair skin while it gives an elegant touch or darker complexion. For something more spring and summer types, bright pink and fuchsias are most appropriate.
Dark and Dramatic – Dark shades give a Gothic yet classy look. They are best suited for fall and winter fashion.
Bright and Fun – If you are the experimental kind try fun shades like canary yellow, fuchsia pink or neon green.