How to Choose the Right Ceiling Fixtures for your Space
Whether you want to add a light fixture to add a character in your bedroom or set the tone in your closet, both flush and semi-flush ceiling lights will help create a long-lasting impression. With a huge variety of fixtures available in both contemporary and modern settings, you will have the best opportunity to choose based on your needs and requirements. Along with the style and material that you use, you should also consider different factors such as the direction of lights, size, diffusion and much more.
To help you narrow down your choices, we are here to share some great ideas so that you can make a well-informed decision.
Difference between the flush and semi flush ceiling lights
Flush mount light fixtures are mounted quite close to the ceiling, which allows them to provide better ceiling clearance. Flush mount ceiling light fixtures are strong sources of ambient lighting, no matter if they are decorative or for a utilitarian purpose. They are just perfect for the hallway, bathroom, and bedroom and even for the kitchen and are an unobtrusive light source that easily blends in with the ceiling. They often come in dome-shaped and are highly versatile to work in both casual and formal settings.
Semi-flush ceiling lights, on the other hand, drop a few inches below the ceiling and are often suspended from a rod or any other suspension system. This gap helps the light to reflect off the ceiling which often creates a halo effect, at the same time provides a downward light. This combined lighting effect is also known as the hourglass effect. There is more room for detail with semi flush crystal ceiling lights as they are meant to be seen.
Ceiling height matters

Your ceiling height plays a crucial role in choosing between a flush ceiling and a semi flush ceiling light fixture. In reality, it will often be your primary consideration before making a ceiling fixture choice. However, using a flush mount light for a long ceiling may look disproportionate. If the ceiling height is eight feet or less, you may not get as many options but to use flush mount lighting.
Sadly, you cannot shop for a ceiling fixture just on the basis of their loose miks. You need to consider the ceiling height as mentioned before but at the same time, you should also consider additional ceiling specifications. Thankfully, you can also find a look that you love and the one that meets your needs.
Lighting for sloped ceilings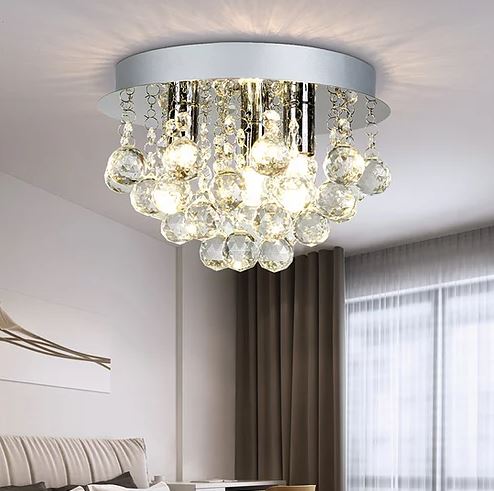 Although s sloped ceiling adds an extra oomph to the architecture of your room but choosing the most appropriate and effective light fixture can be quite different. The first thing you would want to do is to be sure that no matter what fixture you choose, it should not affect the hanging angle of the light. Thankfully, there is a huge range of flush and semi-flush lighting fixtures available that work excellent with sloped ceilings.
You can even create a lighting atmosphere that will be exclusive to your home in all kinds of styles.
Tags:
semi flush crystal ceiling lights