Sheree Zampino is a proud mother, a leading businesswoman, and a great artist. It was in the year 1992 when Sheree Zampino married famous Hollywood star, Will Smith. However, the couple officially got divorced in 1995. The duo has a son, Trey Smith who is also known for his excellent acting skills in All of Us and The Speech to name a few. 
Sheree is still in a close relationship with her ex-husband, Will Smith, and his second wife, Jada Koren Pinkett Smith who is an American actress and talk show host. There is a lot more about Sheree Zampino that you probably may know about her.
Read this all-inclusive blog to know everything about Sheree Zampino from her personal life to her business career, and a lot more. 
Sheree Zampino Married Will Smith In 1992
As already mentioned above, Sheree Zampino tied the knot with Will Smith in 1992. Their son, Trey Smith, was born in 1992, and the couple got divorced just after 3 years of their relationship in 1995.
To people's knowledge, Willard Carroll Smith is one of the leading Hollywood celebrities best known in the television, film, and music industry. He has great acting and singing skills. He is known for his roles in some of the best films, including The Legend of Bagger Vance, Bad Boys for Life, Collateral Beauty, Men in Black, and many more. Smith's acting skills are not just confined to the big screen. He has performed excellently well on television shows like Blossom, Will Smith's Bucket List, and Best Shape of My Life.
Will Smith has won many awards and honors like Academy Award and Grammy Award. He is also one of the richest Hollywood stars. Smith is now married to actress Jada Koren Pinkett Smith and the couple is proud parents to two kids.
Sheree Zampino's Second Marriage
After Will Smith, Sheree Zampino found love in Terrell Fletcher and the duo got married in 2007. However,  due to irreconcilable differences, the couple got divorced after eight years of marriage in 2015. 
Born in 1973, Terrell Antoine Fletcher is a former American football player known for some of the greatest matches of his career. Fletcher is now married to Kavalya Young and the duo has 3 kids.
A Successful Entrepreneur
Sheree Zampino is best known for her intellectual and business skills. It was in the year 2006 when she founded WHOOP ASH! Body Butter. It is a body butter brand that provides nourishment and protection to the skin.
WHOOP ASH! Body Butter aims to help dark-skinned people overcome dry and ashy skin. The platform stocks a high-quality range of products like body butter creams, mugs, and t-shirts at the best price point.
Sheree Zampino is also the founder and owner of Sheree Elizabeth Boutique which stocks a comprehensive range of products like clothes, accessories, jewelry, sunglasses, and a lot more.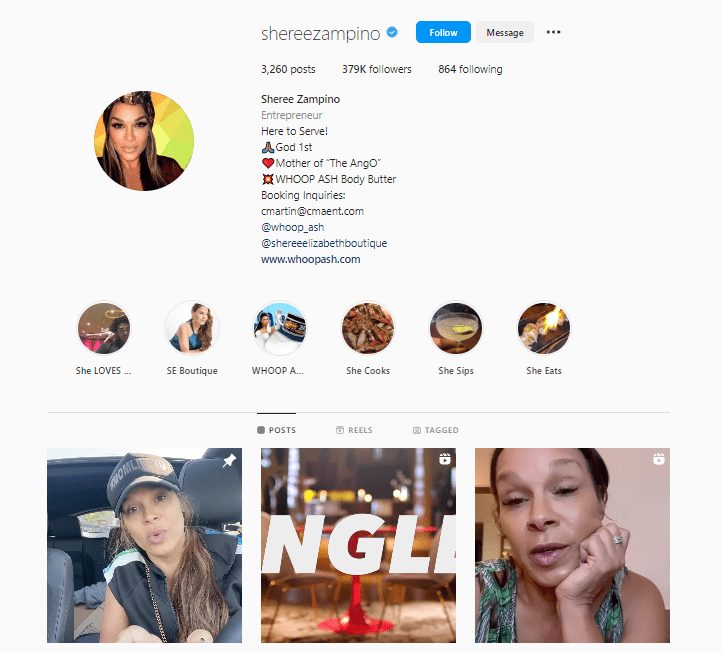 A Great Cook – Sheree Zampino
Sheree Zampino is a magical lady having a lot of talents. Apart from being a wonderful entrepreneur and mother, she is also an excellent cook. She loves to cook different types of recipes and even likes to make people taste her food. 
The entire Smith family appreciates her cooking skills, especially during the holiday season. 
It was in the month of November 2020, when Pinkett Smith and her daughter, Willow, requested Sheree to cook a meal for them for a holiday episode of Red Table Talk. 
Studied Fashion Design
Apart from having amazing business and cooking skills, Sheree has a knack for fashion design also. She completed her fashion design course at the Fashion Institute of Technology in New York City. That's not all!
She even holds a certificate in fashion merchandising from the Fashion Institute of Design & Merchandising in Los Angeles.
While studying fashion design, Sheree developed her interest in the fashion industry and decided to start a business. 
Close Bond With Her Former Husband
Despite being divorced for so many years, Sheree is still in touch with her ex-husband, Will Smith. In fact, she even shares a close bond with her ex-husband, his wife, and their kids. 
They often meet on special days and often celebrate them together. It was in the year 2018 when Smith wished a happy birthday to Sheree on Instagram and called her the "best baby mama ever".
That's not all, 
The ex-couple even posed together with his oscar after the awards event in March 2022. Sheree even congratulated Will Smith on his achievement on Instagram and posted "Epic Night! Congratulations again — when 1 wins we all win! #family1st," 
Let's Wrap Up
Above all, Sheree Zampino is a great mother, blended family advocate, inspirational speaker, renowned cook, fashion designer, and artist. 
The above-mentioned information about Sheree Zampino has been taken from different sources and is true as per our knowledge. In case of any change in facts, we are not accountable.