Nestled amidst the Himalayan Mountain ranges, Spiti Valley is a heavenly abode that enchants visitors with its stunning vistas. Located in the northeastern part of Himachal Pradesh, at an altitude of 12,500 ft above sea level, it is often referred to as the "Little Tibet." The valley is renowned for its picturesque landscapes and forms the boundary between Lahaul and Spiti districts.
The entire location is like a beautiful cold mountain desert wrapped in a turquoise ribbon formed by the Spiti River. Its unparalleled beauty falls less to describe in words until your eyes have the pleasure to view it.
Journey from Delhi-Manali-Spiti
I started from Delhi on Sunday morning and reached Manali in the evening around 6.30 p.m. I decided to stay the night in Manali as I had my bus for Spiti Valley the next day early in the morning.
On Monday morning, I boarded my bus from the Manali bus stand at 6.45 a.m. for Spiti Valley.
It was a 12 hour long journey but the winding streets covered picturesque locations on the way having vast horizons and rocky roads. Our bus halted at Dhabas for Breakfast and Lunch and the most amazing experience was at Uncle Aunty Dhaba.
It was a local food destination but trust me I tasted one of the best Rajma Chawal there in my life at only Rs.60.
Day 1- Monday
The journey marked the beginning of my tour and the first destination was Kaza leading to Spiti in the evening around 7.30 p.m. I had excitement running in my veins thinking about the upcoming trip.
I had already booked a dorm in Zostel Spiti months ago and hence headed there straight from the bus stop.
The Zostel had a very friendly and safe environment perfect for solo travellers and I even made friends with travellers and owners over there.
Day 2- Tuesday
My first day in Spiti Valley started with Kaza market. It is the most popular shopping destination of Spiti famous for its exclusive items like floor covers, fleece shawls, woollen garments, shoes, etc.
Being a foodie, how could I not eat anything? I decided to go for Mutton Momo and Thukpa. It was complete bliss biting the hot spicy mutton momos and the Tibetan Thukpa in the chilly weather of Spiti.
My next destination was Key Monastery. It was only 33 minutes from the Kaza market. It is a Tibetian monastery situated at a towering altitude of 4,166 meters above sea level. The beautiful turquoise blue Spiti River is its famous attraction located in close proximity. It was established in 1855 and is also the biggest religious training centre in Spiti valley.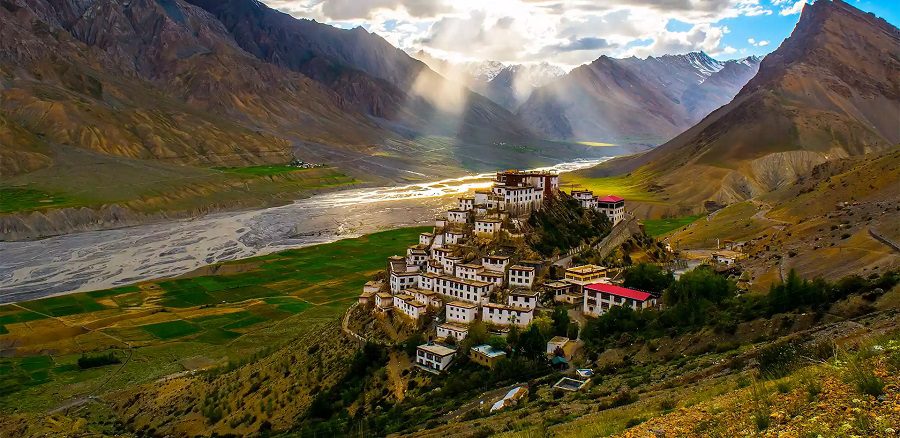 Being an adventure lover I decided to opt for off-roading in the rocky terrains of Spiti River. The stretch was quite long and risky too. But the thrill was extreme. I halted at a point where the view of the Spiti River with the Key monastery in the backdrop having fluttering Tibetan Flags looked magical. I captured some amazing shots of the mesmerizing location and gasped at the beauty.
My first-day ended with visiting Key monastery and I headed back to my Zostel.
Day 3- Wednesday
My second-day began with Kibber Valley. It is world famous for being the highest motorable village lying at an altitude of 14,200 feet above sea level. The destination has pure Tibetan culture and a handful population of only 80 houses. It was another amazing location in Spiti having breathtaking scenic beauty with monasteries.
After wandering in the valleys and its terrains along with a few other visitors I came to know about a government school there from the local people. So we all planned to visit Kibber Government School.
The school was small and had only 35 registered students. It was a joyful experience to see an educational institution in such a remote village at so much high altitude where the population is so less. It shows progress had no limits, all you need to have is a helping attitude and a desire to do something for others.  Let hills give you peace you have been seeking!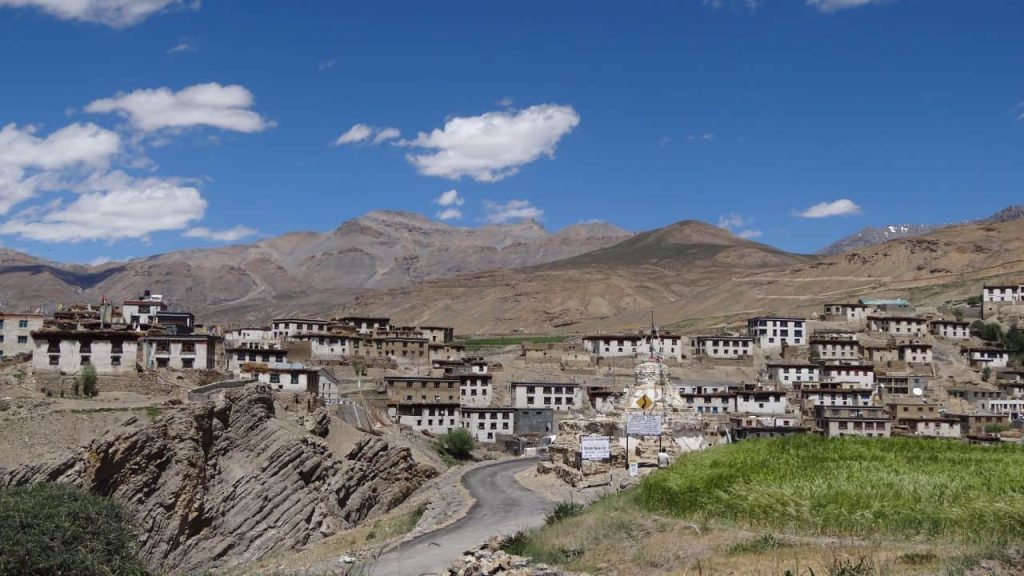 Another vital fact I got to know from the local people about the location was, it remains submerged under the blanket of 6 meter snow in the winter season and during that time the local residents of the area have to move to the less snow-covered areas of Himachal Pradesh where they can get the opportunity to work and earn for their family.
My second-day went exploring the Kibber Valley, its monasteries, nearby villages and the Government school and finally, it was time to end my short trip. Fire in your belly? Click here to see the detailed itineraries for wanderlust Spiti.
The next morning after having my breakfast I took the bus from Spiti to Manali and reached there at night. Again staying one night in Manali, on Thursday morning I boarded the bus for Delhi and reached there at night around 9 p.m.
My trip was only for three days but in those three days, I lived a beautiful phase of my life in the heavenly Spiti.