Who doesn't know about Sundar Pichai? He is one of the most successful  Indian-American entrepreneurs who needs no introduction. He is the CEO of tech giants: Google and Alphabet Inc. Apart from that, he is an IITian, a Stanford former student, a loving husband, a great father, and a tech-loving billionaire. It is not so easy to summarise the whole life of one of the world's most influential people in one blog.
Still, we have tried our best to equip our audience with the best information about Sundar Pichai. Pichai's journey from India to the United States, IITian to the CEO of Google, has a few bumps, twists, and turns. So, fasten your seat belts and get ready to know all about Sundar Pichai's net worth, salary, family, profession, and other important details.
Let's get started. 
Sundar Pichai Early Life & Education
Born in 1972 in Madurai, Tamil Nadu, Pichai Sundararajan is one of the popular names in the tech world. His father, Regunatha Pichai, was an electrical engineer by profession, and his mother, Lakshmi, was a stenographer.
Pichai completed his schooling in Chennai. Then he went to IIT Kharagpur and completed his degree in metallurgical engineering. For his further studies, he went to Stanford University and finished his M.S. in materials science and engineering. Lastly, he did his MBA from the Wharton School of the University of Pennsylvania.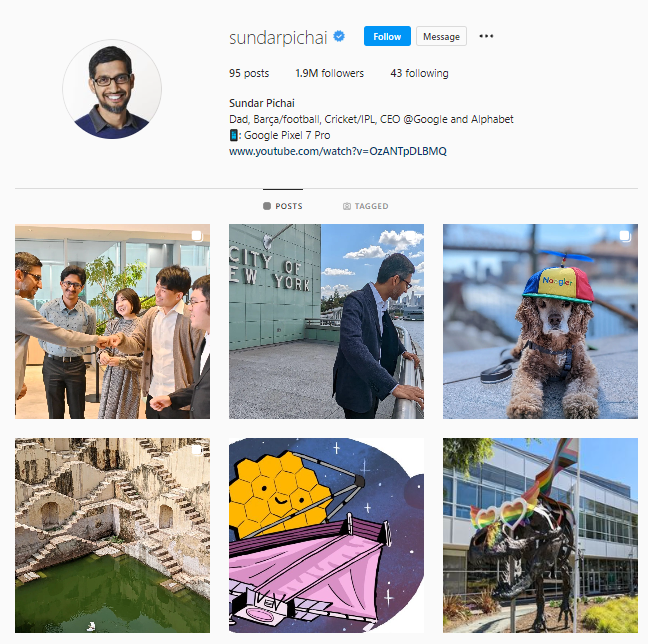 His Career Journey
After completing his education, Pichai grabbed his first job as a management consultant at McKinsey & Company in 2002. However, he left the company after two years and joined Google as a leading product manager for the Google toolbar in 2004. Since then he never looked back and contributed to the development and success of the company which brought him a lot of recognition and fame worldwide.
He became the CEO of Google in, 2015, and in December 2019, he also become the CEO of Alphabet Inc, Google's parent company.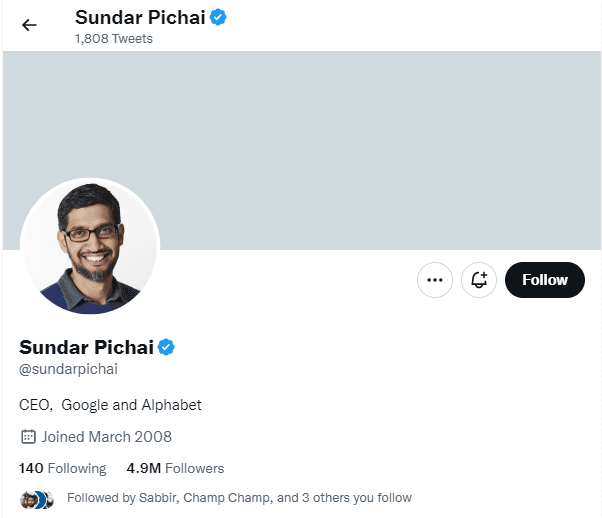 Sundar Pichai Personal Life
Sundar Pichai is happily married to Anjali Pichai who is a chemical engineer and is currently working at Intuit, a software company as a Business Operation Manager. The duo is proud parents of 2 children: a boy and a girl.
Sundar Pichai's Net Worth
One of the main questions people are seeking answers to is what is Sundar Pichai's net worth? Well, there is no exact answer to this. This is because Pichai's net worth grows with each passing year.
But one thing is for sure Sundar Pichai is a billionaire and if reports are to be believed, Sundar Pichai's net worth is around $1310 million or 1.31 Billion in 2022. 
According to some reports, as the CEO of Google, Sundar Pichai's annual salary is around $240 million. Moreover, he owns more than 80,000 shares of Alphabet.
He is in fact one of the highest-paid CEOs globally.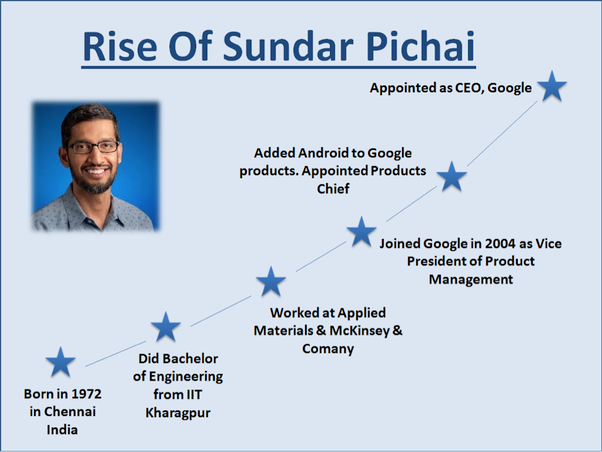 He Owns A Lavish House In California
From a small house in Madurai to a luxury mansion in one of the most beautiful and expensive towns in California, Los Altos Hills, Sundar Pichai has definitely come a long way. 
Pichai's house in California is no less than any royal heaven. The house is equipped with modern and the latest technologies. From beautiful architecture to lush gardens, spacious bedrooms, a pool, a gymnasium, and a tennis court, the house reflects luxury and opulence.
Sports Lover – Sundar Pichai
Apart from being a tech lover, Pichai has a keen interest in different types of sports. During his school days, he was the caption of his school's cricket team and always dreamed of pursuing his career in cricket.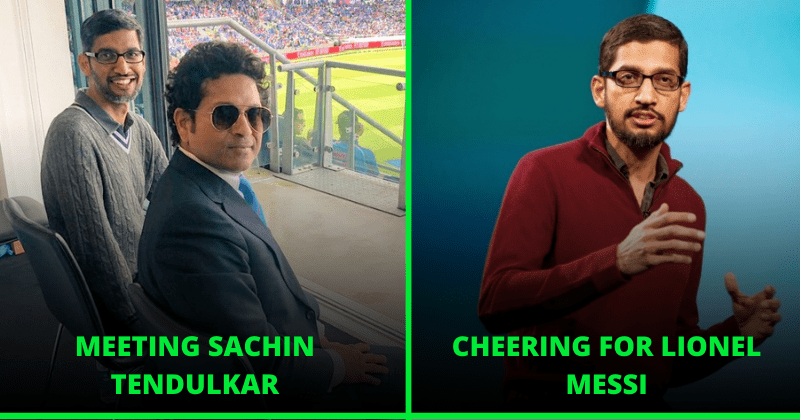 Moreover, he is also a big football lover and often likes to play football matches. Other than sports, he loves reading books, playing chess, making sketches, and watching movies.
Google Chrome: Sundar Pichai's idea
Launched in 2008, Google Chrome is one of the best web browsers. You will be surprised to know the idea to come up with the company's own browser was first suggested by Sundar Pichai. Yes, you read that right!
Before Google Chrome,  Internet Explorer was the most widely used web browser and a big threat to Google's toolbar. So, Sundar Pichai gave the idea to develop the company's own browser.
Of course, initially, no one approved his idea due to the high costs involved, but Pichai didn't give up. He continued his research and provide stakeholders with enough data to approve his idea. 
The launch of Google Chrome proved to be the turning point of Pichai's career.
In The End…
Undoubtedly, Sundar Pichai is one of the most influential and inspiring people in the technology world. Pichai has even won many awards and honors. But his biggest achievement is the Padma Bhushan award that he received from the Government of India in 2022.
He is a role model for budding entrepreneurs and often motivates people to work hard to achieve great heights of success. He is a true example of the popular proverb," Hard work always pays off, whatever you do ".