What is it about Florida that attracts people from all around the world? Is it the white sandy beaches where you can lay in the sun all day just watching the surf beat against the beach? Or is it, perhaps, the palm trees and laid-back atmosphere that pervades the state and belie the surprisingly vibrant and fast-paced nightlife? Maybe it's just the balmy weather and pleasant climate.
Whatever it is that draws you and others to Florida, there's no denying that there are dozens upon dozens of beautiful towns perfect for those who want to experience Florida for themselves. If you want to experience the state of Florida as it was intended to be experienced, there's no better place to do that than the beautiful city of Tampa Florida.
With a respectably large population big enough to ensure plenty of attractions but not quite so large as to eliminate that feeling of familiarity that you'll find in smaller, more personable towns, Tampa has dozens of things to keep you busy! So, without further ado, here are our picks for the best things to do in Tampa, FL!
1. Busch Gardens Theme Park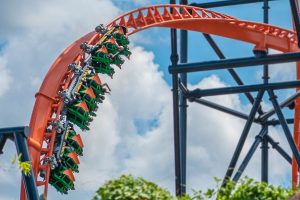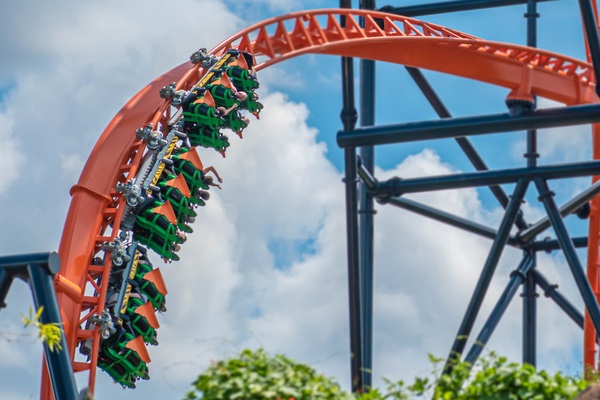 Perhaps the most well-known attraction in Tampa is the legendary Busch Gardens theme parks. Packed fence to fence with some of the most adrenaline-pumping roller coasters and theme park rides in the world, as well as tamer rides for those who don't care for its more high-octane thrills. What's more, Busch Gardens Tampa has actually made history with several of its rides, setting world records for speeds and thrills. If you're in the business of chasing adrenaline rushes, then Busch Gardens is for you.
But Busch Gardens has more up its sleeve than roller coasters and theme park rides. After all, why is a theme park full of roller coasters called Busch Gardens? Why, because of all the gardens, of course! Busch Gardens is home to a number of botanical and zoological gardens that showcase a wide variety of flora and fauna, from sweeping savanna landscapes where African Cheetahs roam freely to large enclosed plant habitats with exotic plants from all over the world.
Whether you are a young speed demon seeking that next adrenaline high or a middle-aged dad with kids and a minivan, there's no doubt that Busch Gardens is one of the best things to do in Tampa FL!
2. The Florida Aquarium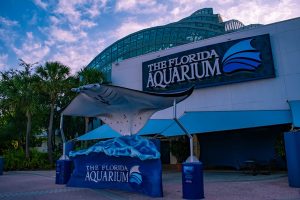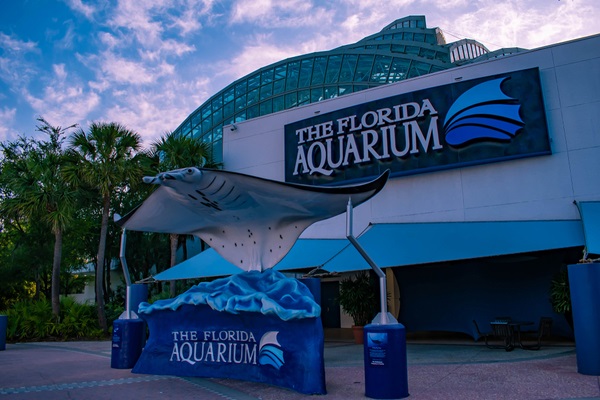 If you have kids or just want to let out the inner kid in you, why not take a day trip to the Florida Aquarium? Boasting over 20,000 different types of plants and animals, the Florida Aquarium is both entertaining and educational. Anyone who has a chance to visit is sure to leave starry-eyed and wonderstruck. Visiting the Florida Aquarium is without a doubt one of the best things to do in Tampa FL!
If you are up for it, the Florida Aquarium also offers swim and dive experiences that allow you to actually swim with the aquatic life and get close to some of the rarest and most interesting creatures on the face of the earth! Whether you're gliding gracefully through the depths with a majestic stingray or surveying some enchanting undersea life up close, the Florida Aquarium is a once in a lifetime experience.
What really seals the deal and makes the Florida Aquarium one of the best things to do in Tampa is its wildlife conservation efforts. The Florida Aquarium is partnered with the Florida Blue and has extensive wildlife conservation programs that focus on solving the complex and multifaceted issues that face our oceans today. This means when you visit the Florida Aquarium, you're not just having a good time, you're also contributing to solving the world's problems!
3. Museum of Science and Industry
Are you interested in science and technology? Do your ears perk up when you hear mention of the newest scientific breakthroughs? Are you interested in innovation and engineering? Well, then chances are you will enjoy spending some time at the Museum of Science and Industry!
With dozens of fascinating exhibits showcasing cutting edge technology as well as technological marvels of great historical significance all housed in a marvelous and ingenious structure, the Museum of Science and Industry is simply glorious. Whatever your educational background or area of professional expertise, the chances you won't enjoy a visit to the Museum of Science and Industry are next to naught!
Although the facilities and exhibits are impressive, there's more to love! The Museum of Science and Industry is a non-profit, so admission prices are low and students can take advantage of reduced entry fees! Whether you're coming for the fascinating 3D printing exhibits or the engrossing displays and architecture that make the Museum of Science of Industry so unique that makes it one of the best things to do in Tampa FL!
4. Tampa Nightlife
Now, it's time to leave the kids at home and put on your little black dress or sharply tailored suit. While there are plenty of fun and educational things to do in Tampa FL, sometimes you just need to have a little bit of adults-only fun. Enter: Tampa's bustling nightlife!
With a wide selection of bars and clubs to choose from, there is plenty to choose from when it comes to having a fun night out on the town. Whether you're looking for a place to relax in an armchair with a stiff martini or a club where you can dance until the morning light, you'll find exactly what you're looking for in Tampa! From clubs to bars to lounges, nightlife activities are among the best things to do in Tampa FL!
If these things to do in Tampa FL look interesting to you, why not take a look at some of the properties here? To do this, you'll need to contact one of the top real estate agents in Tampa FL. Who knows? After you take a look around, you might find yourself moving to this beautiful city!