Kashmir, As the word is uttered or heard, it brings the thought of the picturesque beauty of the mighty Himalayas. According to the words of Mughal Emperor Jehangir "If there is heaven anywhere on Earth, it is here, it is here''.
As we all know, Kashmir lies in the northwestern part of India, situated between the states of Himachal Pradesh and Punjab. It is famous for playing a major role in the India-Pakistan dispute. Its terrain either constitutes huge mountains with narrow valleys or elevated barren plateaus. Famous for its apples, Kashmir is also referred to as the "fruit bowl of India". Snowcapped peaks, green apple orchards, brimming culture, beautiful attires, and aesthetic food the list goes on and on. Let's take a sneak peek into more details on its beauty so that you can add it to your vacation list this summer. Our Kashmir travel packages also include tour guides to provide you with a scintillating experience on this trip.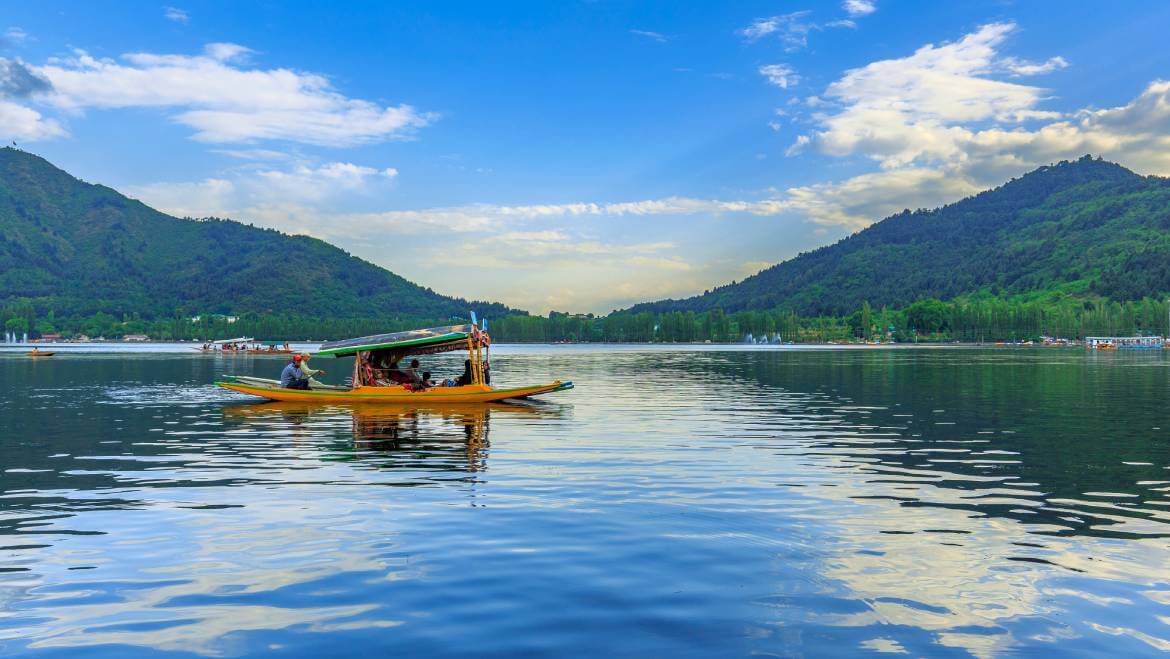 Why Kashmir?
It is scorching summer already. What other place to be when you want to escape this heat? The best site for the reverie, thanks to the pleasant weather and colorful flower-filled springs.
Should I even state the reason for the food? I must, because Kashmir offers a wide array of cuisines. One must try their delicious, native and traditional, multi-course meal, Wazwan. The meal is of Kashmiri-Muslim origin. Some other delicacies you can try here are Rogan Josh, Syoon Pulaav, Modur Pulaav, Goshtaba, etc.
The Lucknawi kebabs have a special place in their hearts. The noon chai and multiple varieties of Kahwah (green tea) are excellent soothers. One of the special recommendations is the lotus stem fritters. You can get them at Srinagar, near Nishat Gardens.
You should visit Kashmir to drink in the essence of Incredible India. Like several other places in India, Kashmir is also rich with traditional heritage, history, culture, and buildings. For animal lovers, they have the National Park reserve in Dachingam, and for the monument admirers, it is the Martand at Anantnag. To get some spiritual experience, you can pay a visit to the Shankaracharya Mandir.
Kashmir can be considered an epitome of 'Nature at its best'. Its beauty is astounding. Some of its amazing hill stations are- Sonamarg, Gulmarg, and Pahalgam. Leh Ladakh, popularly known as the biker's heaven is also in Kashmir. Kashmir's valleys are a lovely combination of magnificent mountains, fragrant flowers, and lustrous greenery. Chashma Shahi, Nishat, and the Mughal Gardens proudly showcase their native treasure of blooming white and pink flowers. The artistic beauty of Dal lake and Chinar trees are an inspiration to artists and painters.
Nature combined with recreation- a perfect holiday spot with family and friends. At the very peaceful Dal Lake, you must ride on a houseboat, natively named shikhara. Another common activity by the lakes is fishing, and you must try it at Gangabal Lake. The waterfall at Ahrabal is a mesmerizing beauty. You can also go Golfing and River Rafting at many of their holiday spots to have your adrenaline levels hiking!
Kashmir is also called the ''Fruit bowl of India''. The king of apples is in abundance here, and you can visit Kashmir just for the taste of their apples. Kashmir has over 113 varieties of apples with unique shapes, qualities, and colors. They are locally called Chunt. Summer is the best time to visit the apple orchards, as it is the harvesting season at that time. Blood-red juicy apples freshly fallen from trees can be found on the roadsides. A single bite of these apples gives a heavenly feeling.
Shopping is a must when you go vacationing. At least for the souvenirs, isn't it? Kashmir offers you the best of their nature in the form of fresh saffron, dry fruits, and apples. Their traditional shawls, bags, handicrafts, papier mache souvenirs, bangles, jewelry, and blankets are a high catch at reasonable costs. Leather goods are one of the main businesses in the main cities. The best day for shopping in Srinagar, the capital of the state, is Sunday when they host the Sunday market at Lal Chowk.
India is a diverse country with a rich culture at every nook and corner. Kashmir is no different. Rooted traditions and warm, friendly people are two things that you can find all over the state. Get to talk with the natives, and you will be surprised at what you get to learn.
As you plan, try to get these places on the route plan to have a taste of every facet of Kashmir.
Gulmarg
Leh-Ladakh
Kathua
Badgam
Rajauri
Pahalgam
Multiple packages are offered by us to make your trip a memorable one. Get your tickets booked with one of our Kashmir holiday packages! And experience the awe-inspiring beauty of Heaven on Earth. To get your feet placed in this paradise this summer visit our website and avail exclusive discounts.