If you have it, flaunt it! Yes, I am talking about Filippo Loreti watches. After smartphones, people are obsessed with the smartwatch. And why not? When an elegant smartwatch with amazing features is available at the best prices. A watch is something that represents you and your personality. Therefore, it should be unique, classy, and elegant like Venice Rose Gold Blue Automatic Watch.

Do you know why the demand for this branded watch is increasing then supply? Let's find out:
THE SPECS
Let's find out the specification of this beautiful Venice Rose Gold Blue Automatic Watch.
Dimensions: 42mm diameter x 12mm height x 51.5mm lug to lug
Weight: 108g
Water resistance rating: 5ATM / 50m
Movement: Miyota 9100
Accuracy: +9.9 sec / day
Lug width: 20mm
Warranty: 10 years
Price: £399
THE CASE
The case is rose gold plated and entirely polished that defines a style statement. However, it is advisable to be careful as it will pick up hairline scratches. It's a super shape – a lovely rounded affair with a smaller case back than top, it looks smaller on the wrist than its original dimension.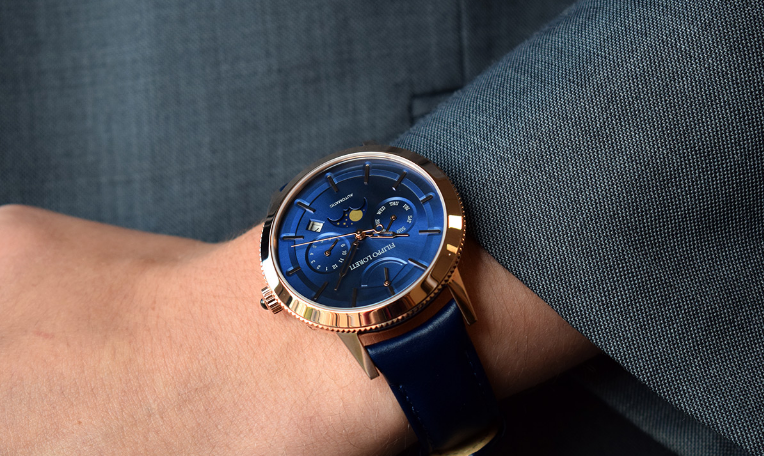 You will find a button on the side, located at 2 to advance the month indicator. Along with this, there is a push-pull crown, which has a rough grip, which is easy to use for winding or setting. It has an artificial blue jewel placed on the end.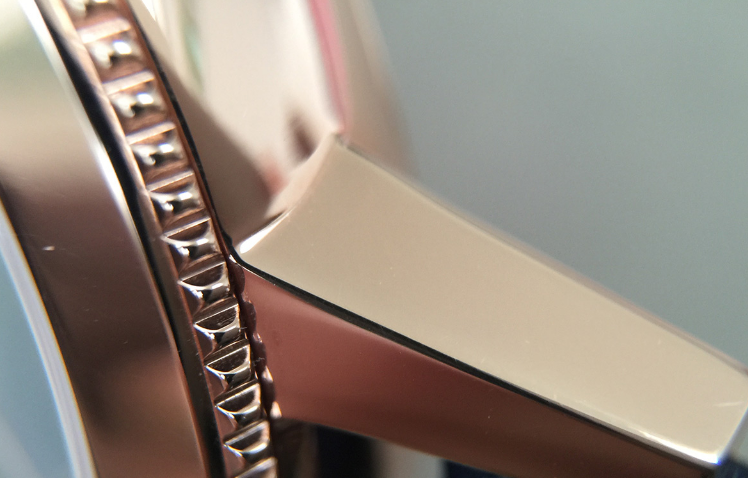 If we talk about the caseback, 4 screws hold it in place, with an exhibition window displaying in the centre. Further, it contains a couple of details laser fixed above and below the window, the drawback is that they're not engraved.
THE DIAL
The dial is a lavish blue and is quite busy thanks to the multiple subdials. The power reserve at 12 is classy and is something you see seldom, so it's a welcome addition. Further, it shows a day indicator at 9, a month at 3, and shows the date window at 4:30. The 24-hour indicator at 6 is disguised as a day and night indicator with a blue base. In addition to, the dial in a Filippo Loreti has a sunburst effect displaying out from the centre, which conveys a lovely reflection. Regardless to say, it's multi-layered offers a sense of depth.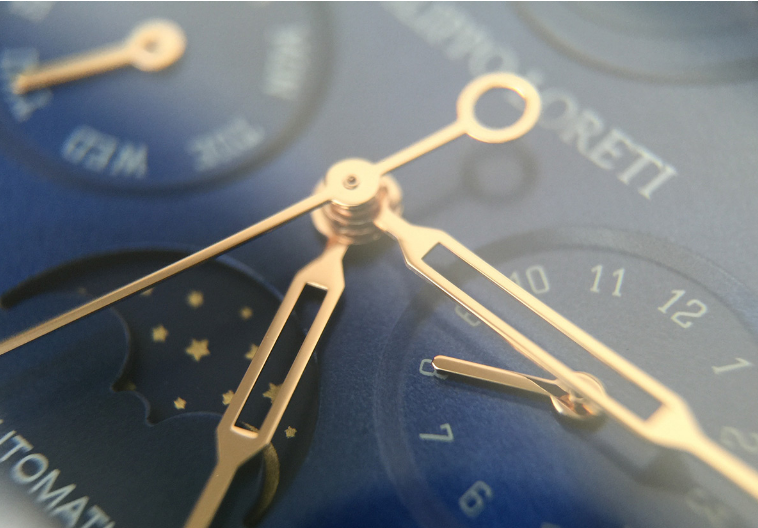 The minute and hour hands are pretty unique in design, being skeletonized syringe shaped. You will find hollow disc acting as a counterbalance on the straight second hand, and further you will find other subdial hands are all simple straight points. All the hands are polished in a rose gold to match the case.
The blue complements with the rose gold; really classy, elegant, and stylish.
THE STRAP
Full-grain blue Italian leather is used in the strap, which is of good quality. It's thick and well fabricated. The strap also comes fitted with quick release pins, look good on any watch.
The strap structure with lighter blue stitching which complements the main darker blue gives an interesting and good impression.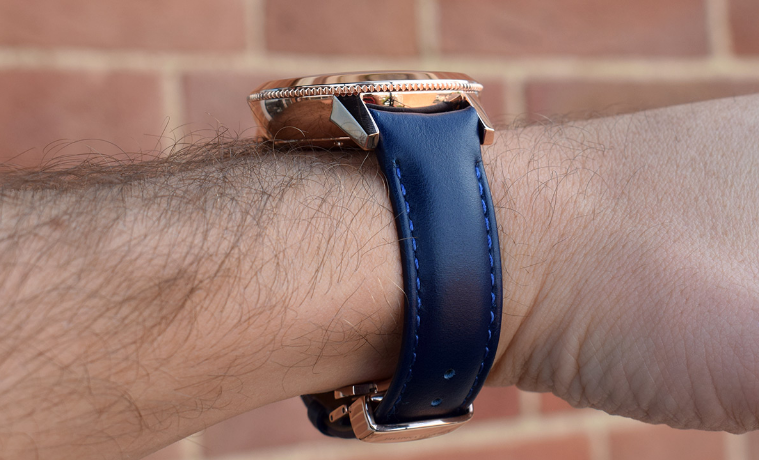 To make a strap of the watch elegant and classy, a polished rose gold butterfly clasp is used, though the same kind of clasp you see quite a lot. In the end, the Filippo Loreti logo is engraved on the top bar.
THE MOVEMENT
As we know that the watches of these brand is inspired by the Italian watchmaking and architecture. Therefore, the movement used is inspired from the movement used in the Miyota 9100 series of Venice (Italy). It runs at a high beat of 28.8k bph, has a 40-hour power reserve, and rocks 26 jewels which are visualized by the indicator at 12.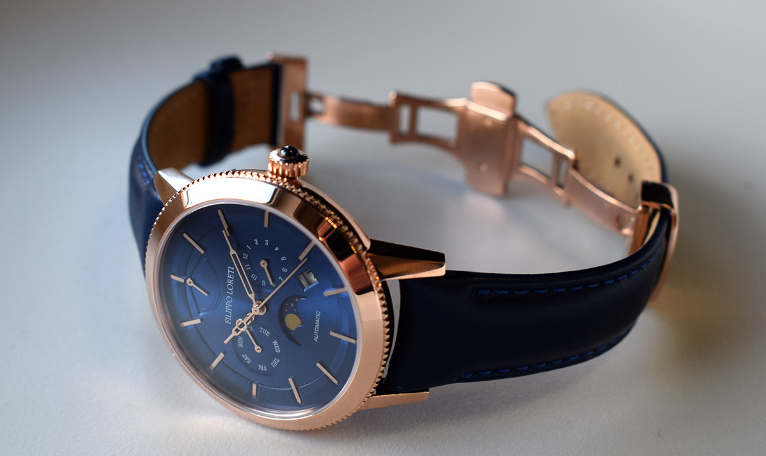 In addition to the power reserve at 12, the day indicator is at 9, a month at 3, and a day/night indicator at 6 (which is a glorified 24-hour subdial). It also contains the date window at 4:30, which has a white wheel and is sat little deep.
Buyers are happy to see custom rotors, and no doubt, the Filippo Loreti offering is pretty good. Further, you will find a gold plated rotor with their logo engraved on the top, alongside some other specs too.
Final Words
No doubt there are many companies who claim they offer smartwatches with unique features. In the end, the reviews reveal the truth. If you explore the Flippo Loreti Review, you will understand why people are so obsessed with this brand.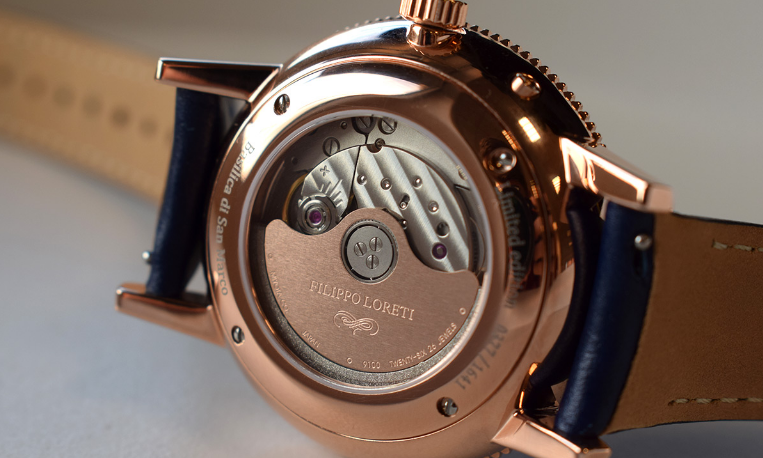 And once you buy it, you will understand why it's worth the price.