Gender stereotypes often paint women as subpar leaders, driven by their emotions and incapable of making big decisions. This is why women are still discouraged from taking up leadership roles and face discrimination when they're promoted to one. However, age-old gender norms aren't set in stone; statistically, women are just as capable of leading as their male counterparts.
That's not all, but women can even make better leaders because they harbor more empathy towards their coworkers, thus building a better team culture. Here are a few more reasons why women entrepreneurs and managers make better leaders.
The Promote Better Work-Life Balance
Because society still demands women to give time to their homes more than men, it has led them to become better at managing their work-life. As a result, teams managed by women have better work-life balance and a healthier culture. This leads to more productivity, happier employees, and a decrease in employee turnover.
Moreover, to maintain this balance, female managers are more likely to prevent their teammates from being assigned more work than they can manage. This also decreases unnecessary overtime and saves the company from paying employees for that overtime. So, in the end, it's a win-win situation for both the employees and the company.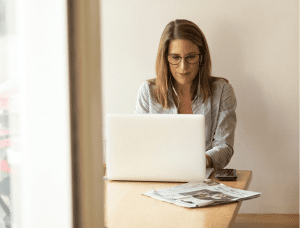 They Are More Empathic
Empathy and good communication are some of the main traits of effective female leaders. Instead of going for a more aggressive and assertive approach to get employees to work, women often take the help of empathy to promote productivity. Female leaders are also more likely to take the employee's side when they face any adversity or are suffering from any crisis. This is why employee retention is increased, leading to a better organizational culture.
Women Focus More On TeamWork And Building Others
Because women face more adversity when it comes to moving forward in their careers, they are more passionate about working and uplifting others working under them. They often rely on the team's output before making any decisions to avoid making decisions that'll cause the team trouble. This is why women leaders are more cooperative and less authoritative and can build lasting relationships between employees.
They Encourage Diversity
Organizations that hire women for leadership roles can better survive the test of time. Because women always encourage diversity, and these days that's what organizations are looking for. But creating diversity isn't the solution. It needs to be managed differently as well. Because a diverse workforce is more culturally sensitive and without proper management, the workforce can become discouraged easily. Women leaders can use empathy to mitigate these issues before they affect the organizational culture.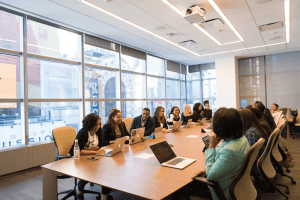 They Are Good At Multitasking
Women are known to have better memory and cognitive skills, making it easier for them to wear different hats and take on multiple tasks. But taking tasks is not the same as finishing them successfully. However, women are also task-oriented, so they only take responsibilities they can handle and finish on time. This prevents them from falling below their performance metrics and their team from being overworked and missing deadlines. Women are also more likely to set up and help the team complete tasks instead of just giving orders from above.
They Promote Better Communication
Employees often find it difficult to voice their concerns to their managers. That's because it's a known fact that managers start alienating employees who come to them with complaints instead of resolving them. As a result, employee morale is decreased, and they start looking for better opportunities. On the other hand, organizations with a good ratio of women leaders don't face such issues often.
That's because women not only listen to their employee's concerns but will also try to resolve the issues and take steps within their means to prevent such issues from resurfacing again. Over time, the company culture shifts, and free communication flows from employees to their managers.
They Offer New Perspectives
Because women didn't have many leadership roles in the past, they don't conform to the age-old managing techniques that prevent worker satisfaction. Instead, when women are given leadership roles, they bring a fresh new perspective and innovative ideas badly needed to equip organizations for today's workers. Because the new workforce is more aware of their rights and has less tolerance for bad management, if organizations don't alter their management techniques, they won't be able to retain the top talent.
They Are Better Mentors
Mentoring isn't just teaching the employee how to perform certain tasks. But guiding them through the training, checking their progress, giving feedback, and helping them when they're struggling. Women leaders are known to be better mentors because they can do all of the above and help new employees adjust better to the organization.
Similarly, if an employee is promoted, women are less likely to be hostile towards them and help them fit their new role. Besides that, they can also mentor fellow managers by example. When other managers see the progress of another team, they'll be more willing to adopt certain methods to improve their teamwork as well.
What Other Changes Women Leaders Can Make?
Besides bringing all the qualities mentioned above to an organization, women leaders are also needed to diversify the workforce and build better company cultures. Not just that, but they're also needed to bridge the gender pay gap so younger women can have better opportunities to advance their careers without getting a low wage. Additionally, to keep up with the diversity, organizations need women leaders to build a good environment for a diverse workforce, so they don't face gender or race-based discrimination.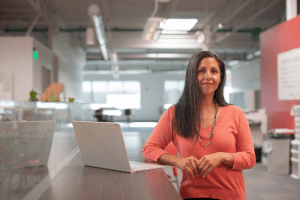 Find More Leadership Tips For Women Entrepreneurs
Hustle Mama is an online lifestyle magazine created to empower women and inspire them to pursue their dreams. The magazine aims to help women leaders find their calling and break societal norms and gender stereotypes. You can find knowledge on building your business, healing, spirituality, arts, and entertainment. In addition, the magazine for women also has a traveling section so women can take a break from their busy lives and let loose. So what are you waiting for? Check out the magazine and subscribe today!
About The Author
The author is a leadership coach who has worked with leading companies to train their staff to take on leadership roles. She's also an activist that works with women minorities to help them find good employment opportunities and advance their careers. Currently, she's working on a self-help book and runs her blog to give tips to women leaders.