Winona Ryder is a beautiful and talented American actress popularly known for her roles in Edward Scissorhands, Beetlejuice, Mr. Deeds, Black Swan, and many more. Talking about her personal life, she has dated many famous Hollywood celebrities like Johnny Depp and Matt Damon. Since 2011, the Stranger Things star has been in a love relationship with Scott Mackinlay Hahn. Since the start of their relationship, the duo has tried their best to keep their private life away from the limelight. However, it was in 2016, that the actress opened up about her long-term romance with Hahn. 
It was during the launch of season 1 of Stranger Things when the couple was spotted together and Ryder revealed in an interview that she'd been "happily with someone for quite a while now." But who is Scott Mackinlay Hahn? 
Keep reading the blog to know all about Ryder's longtime boyfriend. 
Key Facts About Scott Mackinlay Hahn
Hahn Is A Fashion Designer
Hahn is a successful fashion designer and entrepreneur. He is the founder and owner of one of the best fashion brands: Loomstate—a sustainable apparel brand. The platform deals with uniforms, fashion, third-party logistics, and above all manufactures ethically produced, high-quality clothing for a sustainable future. 
During one of his interviews, Hahn mentioned that the main motive of Loomstate is to make organic cotton to reduce damage to the environment that can be due to traditional cotton.
Campaigns Against Fast Fashion
Over the last few years, fast fashion is one of the main causes of environmental damage. It is responsible for high global carbon emissions. Therefore, with the passage of time, more and more people are getting aware of the ethical concerns about fast fashion. Especially, sweatshop labor and major brands' denial to pay their employees a living salary has been at the core of sustainable fashion drives. There are many famous personalities condemning fast fashion and Hahn is one of them.
He openly promotes sustainable fashion and criticizes fast fashion. While judging the "Trim the Waste of Fashion" competition in 2011, Hahn even mentioned real objectives for change within the fashion world.
Not A Social Media Person
It seems Scott Mackinlay Hahn is not a social media person. He doesn't have an account on Instagram but does have a fan account. Even Loomstate's Instagram account has limited followers and posts. It has even not seen any activity since 2019. Hahn is present on Twitter with the name @Kelpsav. However, he is not so active and there are very few followers on his Twitter account. 
Hahn being so inactive online shows he likes keeping his personal life under wraps.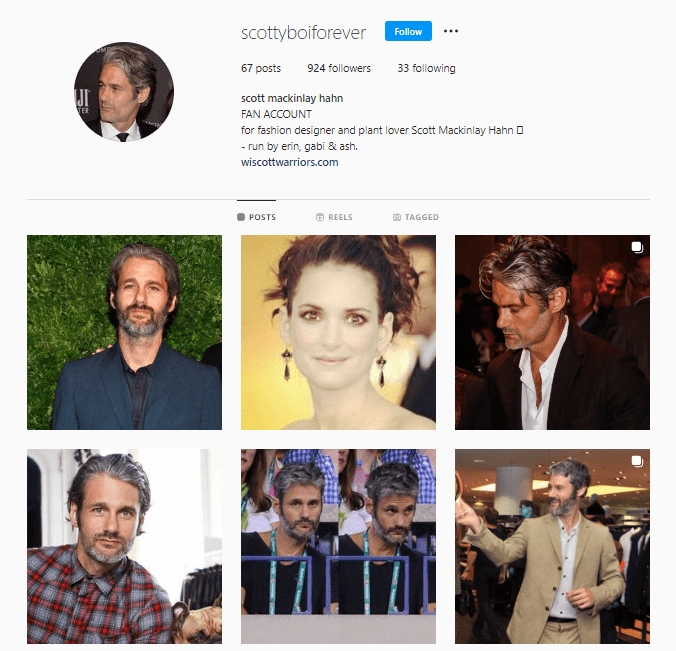 Supports Ryder's Career
Though Hahn is a private person and the duo keeps their relationship low-profile, Hahn has proved to be the biggest supporter of Ryder. He has accompanied Ryder at different events. As mentioned above, in 2016, the duo made their red carpet debut at the premiere of season 1 of Stranger Things.
Hahn and Ryder were even spotted at the Screen Actors Guild Awards in 2020. The couple matched in coordinating black clothes. In 2022, the duo was captured at the premiere of Stranger Things season 4 in New York. This all shows how well Hahn supports Ryder's career. 
Marriage
Despite dating each other for more than 10 years, the question of whether Hahn and Ryder will ever tie the knot is still relevant. This is because, during one of her interviews, Ryder admitted that she feared getting divorced. She mentioned that rather than getting divorced a few times, she would never want to marry. She further said," When your parents are madly in love for 45 years, your standards are really high."
However, as per the latest sources, Ryder is ready to marry her long-term boyfriend, Scott Mackinlay Hahn. Well, the fans are eagerly waiting for the time when the duo will get married. 
Hahn Is Younger Than Ryder 
Looks are deceptive and this is true in the case of Hahn also. At the first glance, Hahn might look elder than Ryder. However, this is not true. Don't get fooled by his gray hair and beard. You will be surprised to know that Hahn is younger than Ryder. Yes, you read that right.
In fact, he is almost a decade younger than his beautiful girlfriend. According to some sources, he was born in October 1980 while her young-looking girlfriend turned 51 this October.  
In The End…
Above all, Scott Mackinlay Hahn is a successful fashion designer, businessman, nature lover, and Ryder supporter. Hahn and Ryder are one of the most powerful couples. They are loved for all good reasons by people from all walks of life. Hoping for their marriage. 
Hopefully, you liked the article. Stay connected with us and equip yourself with the best knowledge across the world. Find information on celebrities, businesses, sports, and other areas of interest.