One of the most common questions that workout beginners ask is which clothing is appropriate for yoga. In class, you should be relaxed and focus on yourself and your body. There is no particular dress code because the emphasis is on suitable clothes, comfortable to wear.
One feels nice in the tight leggings, while others are more comfortable and more relaxed to workout in sweatpants. Practically speaking, what people wear depends on the severity of the yoga exercises and the temperature in the training room.
On the page below, read about different types of this mind and body practice:
Of course, one cannot ignore the matter of personal taste in clothing. Yoga class is not exactly the place where you need to look like on a catwalk, but you can undoubtedly wear catchy and unusual, but above all, comfortable (and decent), outfits that embody your style.
Prepare for Sweating
Many people think of yoga as passive exercise, which involves movements while standing or sitting. They are quite surprised when they are sweaty and exhausted after a class, especially after some intense workout sessions.
To reduce sweating, and to withstand room heat (even though it is not additionally heated, the temperature rises when there are plenty of people inside), you need breathable apparel. It means that you should give priority to clothing made of natural materials that absorb moisture from both directions and ventilate your skin during training.
You can opt for a 'mini' outfit – sports bra or tank top, and shorts (pay attention to the length of the shorts, so that you and other practitioners are not uncomfortable). Maybe the better choice would be Capris pants with unusual slits on the socks or inserted mesh sections.
The choice of these pieces of clothing is vast, as you will see it when you visit this page. You can easily find those that highlight your perfectly imperfect sense of fashion. For example, you might opt ​​for a net tank top with short sleeves over a sports bra or a high neck tank in some vibrant color.
Comfortable Can Be Fashionable
Whether you are skinny or have curves, tights are always the right choice. But, lest you mingle with the mass of ladies in black leggings, choose some more cheerful clothes, in floral, geometric, or some authentic design. You can even opt for models with a skirt, i.e., tulle sewed on the waist. For more 'ventilation,' you can also wear tattered leggings, but keep the slits discreet.
You will wear long sleeve shirts if you exercise outside or when the temperatures are not too high. Naked back tops, those with V-neck cutouts, one-shoulder models, or some unique inscriptions will be a leitmotif of your yoga outfit.
Unusual Outfits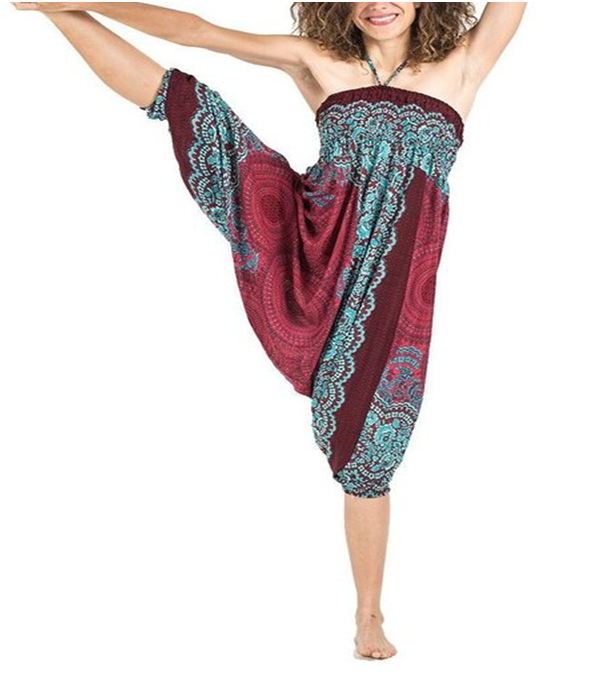 Loose-fitting pants, which might be even more comfortable for a yoga class, also offer a variety of choices. So-called Aladdin or Harem trousers are both comfy and fashionable. You can choose a model in a boho or hippie design, and match it with a monochrome top to achieve that exotic, Scheherazade look.
Baggy pants that are narrowed on the calves or have accessories in the form of drawstrings or ribbons stand out from the standard outfit for exercise. Loose jumpsuits are an unusual but pretty convenient workout outfit. There is nothing to move, fall over your head, or reveal too much. Tight jumpsuits can be too much for a yoga class, but you are free to wear these if you practice yoga at home.
It is a general rule that if one part of your outfit is loose, the other should be tight. But the rules are there to break them, and to show your uniqueness. Match harem trousers with a backless yoga tee or top tank. You can even wear a crop top, but only if it's well-fitted (so it doesn't pull up). Don't forget to wear a comfortable sports bra underneath the upper parts of the yoga outfit.
Women generally have this 'problem' of overthinking about what others (read, other women) think of them, i.e., their outfits. The goal of the yoga class is not to look your best, but to feel your best. This way, you will see women of different ages and body builds at training. Each one carries what he or she feels best when performing yoga moves.