Are you on the hunt for the perfect birthday gift? Look no further than gemstone finger rings! Not only are they stunningly beautiful, but they also have special meanings and energies that can enhance the wearer's life. From the fiery red of rubies to the serene blue of sapphires, there is a gemstone ring for every personality and style. So come along on this sparkling journey and explore some of the most gorgeous gemstone finger rings that are sure to make the perfect birthday present for your loved ones. Get ready to be dazzled!
They are every woman's favorite accessory and you can find a vast collection of finger rings from top jewelry brands in India. In fact, if you think of where you might feel confused, it will be about deciding which one to pick since all of them are absolutely stunning.
But since you are here, we will make sure even that problem is solved in no time. Down below are some of the most beautiful and elegant finger rings you can gift your loved one to show how much they mean to you.
Keep reading and get ready to be dazzled!
Here are Some Beautiful Gemstone Finger Rings for Birthdays
14kt Rose Mai Tai Finger Ring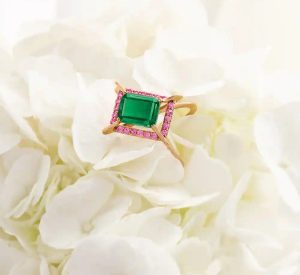 It's sleek, it's bold, and it's absolutely stunning. This finger ring studded with emeralds will certainly be a birthday present your loved one will fall in love with. The glittering pink stones further add a graceful contrast, making it suitable for cocktail parties or festive events.
If your budget allows, add a shimmery dress to make a whole package. This way, the birthday girl won't even have to worry about the outfit to match this gorgeous ring!
14kt Yellow Gold Irish Coffee Finger Ring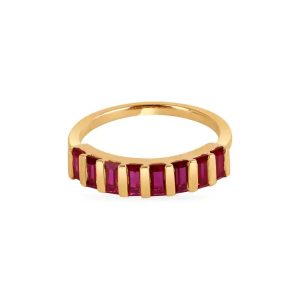 If you wish to gift something unique and dramatic, look no further than this gleaming finger ring with dark red stones. The stripes give a bold look while gold metal keeps things glamorous.
This stunning ring features a gleaming gold band that adds a touch of luxury and elegance to any ensemble. The band is beautifully crafted with grooves that are fitted with dark red stones, creating a striking striped pattern that catches the eye. The deep red hue of the stones adds a touch of sophistication and allure to the ring, making it the perfect accessory for a special occasion like your friend's sangeet. Wear it on your finger to complement a long skirt or traditional attire and watch as the ring elevates your entire look with its timeless beauty. With its exquisite design and attention to detail, this ring is sure to become a treasured addition to your jewelry collection.
14kt Rose Gold Emerald Isle Finger Ring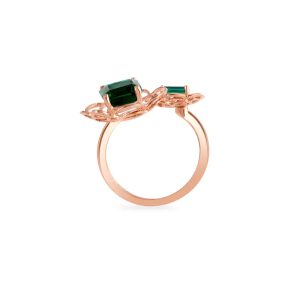 We are back with emeralds but this time, the design is to die for. Yes, this burnished gold band is in high demand due to its stylish design and bold floral motifs. The eye-catching emeralds bring out the magnificence.
If your loved one is a party person, this is a great birthday present. They can wear it as a statement piece and glam up the whole ensemble.
14kt Yellow Gold Sweet Hurricane Finger Ring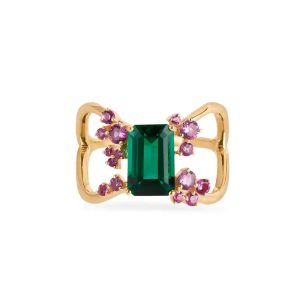 Delicate and designer, this sweet hurricane finger ring is also one of our favorite gemstones rings for birthday presents. It is a perfect cocktail ring that can suit the personality of anyone who adorns it.
The pink stones are masterfully set at the sides of a huge emerald to create a remarkable contrast. Moreover, since it's crafted with gold, it is a good way to show your love and affection to another level.
14kt Rose Gold Caribbean Rum Punch Finger Ring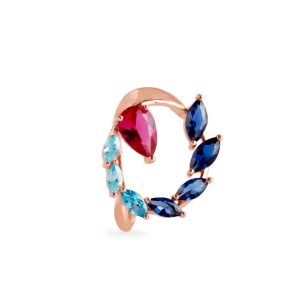 We saved the best for the last! This rose gold ring will bewitch the person the moment they will see it. So, if you are really trying to impress the birthday girl, you ought to think seriously about this brilliant finger ring.
This yellow gold ring is a true masterpiece, showcasing a liquid beauty that is simply mesmerizing. Its elegance is enhanced by the dazzling spiral of marquise-cut blue stones, which create a mesmerizing effect that draws the eye in. The interplay of light and shadow on the yellow gold band further enhances the overall beauty of the ring, giving it a sense of movement and life. Adding to the allure is a brilliant oval of red at the center of the spiral, which completes the look of the ring and adds a pop of color.
The Final Words
Here you go! We spilled our favorite picks for a perfect birthday present. The ball is now in your court. Decide which one you love the most and start shopping. These gemstone finger rings are featured in Mia by Tanishq. You can check their website to know the price and other details.