Traditional "Save the Date" cards are postcards that indicate the names of the bride and groom and the date of the upcoming wedding. They are sent to all guests, even those whose invitation has not yet been decided exactly, in order to inform them about their desire to seal themselves in marriage on a certain day.
Such invitations are actually very important. They show that the newlyweds respect you and your participation in their happiest day. Therefore, if you have received such an invitation, it is worth giving your answer about your participation as soon as possible.
Today, the bride and groom can choose almost any form of "Save the Date" invitation. It does not even have to be an invitation in the usual paper form. Often, a couple tends to choose Save the Date as the style of the main wedding invitations.
When is the best time to send out Save the Date?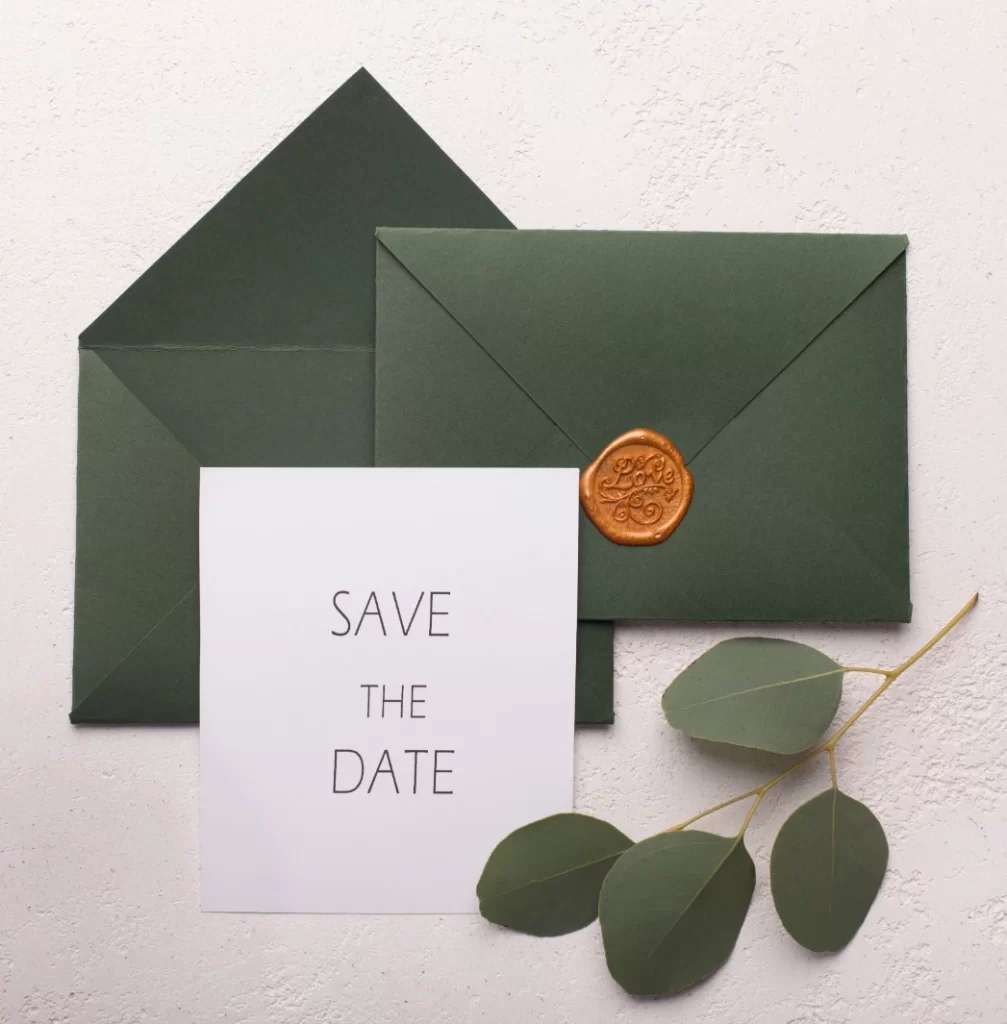 These cards are used to alert prospective visitors of the approaching party. Therefore, postcards with or without a photo are sent much earlier than invitations. Usually, guests receive them 6–12 months before the event. It depends on when the future newlyweds decided on the preliminary date and the main features of the event.
If there are less than 2 months left before the celebration, it is pointless to send advance notifications. Instead, you can send out classic invitations.
It is better to ask for advanced answers. So it will be possible to plan the event in advance, determine the number of guests, and rent a suitable place, based on the approximate number of wedding visitors.
Save the Date wedding
cards: what's the deal with them?
Well, think of them as a pre-invitation to the delightful love-filled extravaganza that's in the works – your wedding! There are no rigid rules to follow here, so feel free to let your imagination roam free. Picture this: sending out postcards from a sunny beach far away, personalized fridge magnets, charming storytelling pens, or perhaps even cozy coffee mugs that'll bring joy to your loved ones. It's really cute, right? You may use any of these examples or come up with your own unique design for your wedding invitation.
Still, looking for something magical to sprinkle on your wedding save the date cards? Pietrapaperdesign catalog at your service! They are filled with tons of pre-made designs, and their team of creative minds can help you create something completely unique for your special day. Sounds like a fun ride, right?
Considering a Pre-Invitation Announcement?
Just a quick heads up – your announcement is likely going to be a bit more detailed compared to a Save the Date card. It's all about fitting in all those necessary details, you know?
So, how about shaking things up a bit? Try something totally unexpected and a little daring. Get your guests buzzing with excitement, wondering what's up, and keep them on their toes till they receive the official invites. Sound fun, right?
Top ideas for Save the Date weddings for the most creative couples
Numerous options for cards are available. The aesthetic motif of the wedding is not something they have to adhere to. Photos with some basic information about the couple are the most popular choice for newlyweds.
Cute props are often used to enhance photographs. There is a possibility of increased durability. This may be:
Calendars;

Plates;

Magnets;

Watch.
You're not limited to toys as presents. They need not be massive. All the visitor needs to experience is the love and care that will be showered on them at the future event.
Those that want their pre-event publicity to be effective for longer are moving away from the traditional photograph. Instead of using stickers, a couple might send out antique olive oil bottles with their wedding details on them to alert their friends and family. You may also use china plates and write straight on them.
You should make something that reflects your personality and style while also providing visitors with a taste of the festivities.
Traditional versus innovative wedding invitation styles?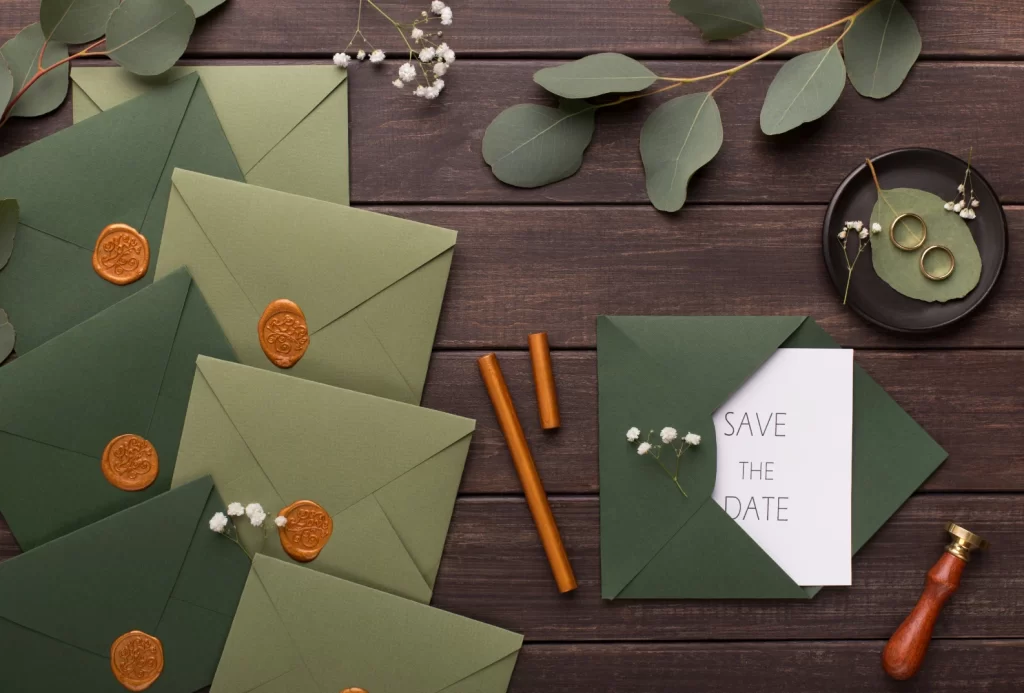 Commonly, couples tend to fall into one of two categories. One group leans towards traditional invitations that emphasize key messages, featuring a mix of handwriting and print fonts, and minimalistic elements or illustrations.
These invites are tidy and eye-catching in their unassuming and direct style.
Other couples choose bold, theme-based invites that match their wedding's design and colors. Laser cutting, engraving, wax sealing, and bespoke calligraphy help them realize their vision.
Crafting wedding invitations goes beyond mere paper, wax seals, and ribbons. Just as an artist uses a wide palette, of what to put on Save the Dates, you too can incorporate elements like wood, metal, glass, luminous LEDs, lush plants, and beautiful natural minerals. These precious touches can transform your invitations into true masterpieces.
You may now write a great pre-invitation knowing what to include in Save the Dates. Your loved ones will hear about your happiest day early. Your lovely adventure begins with this kind welcome, spreading excitement and anticipation like stardust to the people you love.