Simple, sleek, and contemporary home designs have surged globally over the past few years, particularly during the epidemic. The design concept is also still growing in popularity throughout many developing nations.
With that, interior designers are also increasingly gravitating towards modern, minimal, yet durable home upgrades.
Many of them favor aluminum doors and windows over wooden ones to modernize homes, workplaces, and commercial spaces. Here's why they think aluminum is more efficient than traditional wooden doors.
Benefits of Aluminum Doors
1. Enhance Property Value
Interior designers also want to make the upgrades worthwhile and ensure they add value to the property while looking aesthetically pleasing. Installing aluminum windows and doors is a great way to do that. You get a return on your investment when you resale your property.
If you've just bought a property to sell it off in the future, then adding an aluminum front door would add to curb appeal and boost your property's resale value.
2. Are Energy Efficient
The use of aluminum doors can help keep the house energy efficient. These doors help insulate the house, reducing overall energy consumption.
So, if you live in an area with harsh climate conditions, the best way to avoid spending lots of money is to opt for aluminum doors. These doors can trap heat or cold without letting the external temperatures affect the internal conditions of the house.
3. Provide Optimum Security
Aluminum doors are sturdier than any other metal or material on the market, which makes these doors sustainable and secure. You can opt for double or triple-layer glazing to make them more secure against intruders or break-ins.
4. Require Low Maintenance
Interior designers recommend aluminum doors because these doors are cost-effective during installation and beyond. Most doors need sprays, polishes, or other maintenance to keep them in good shape.
However, with aluminum doors, you can go a while without getting them serviced or maintained for a long time. These doors need a damp cloth and some quick wiping for a quick clean-up. No further maintenance is required to keep aluminum doors in top shape.
5. Are Moisture Resistant
Wooden doors absorb moisture and warp. They don't fit into their casements and therefore need regular repairs to function for long. However, aluminum is moisture resistant, so it continues to perform as smoothly as the first time you installed it. It doesn't warp or absorb moisture. Therefore is one of the top choices for interior designers when designing homes and other properties.
6. Are Fire Resistant
Aluminum is a non-combustible substance, which gives it the power to help keep your house safe from fire. These doors are fire resistant and add value to your property.
Aluminum has high heat transfer and reflective properties that can help during a fire. It can help reduce the impact of fire, which could save lives. On the other hand, wooden doors are highly combustible and can be life-threatening, even if there's just a spark.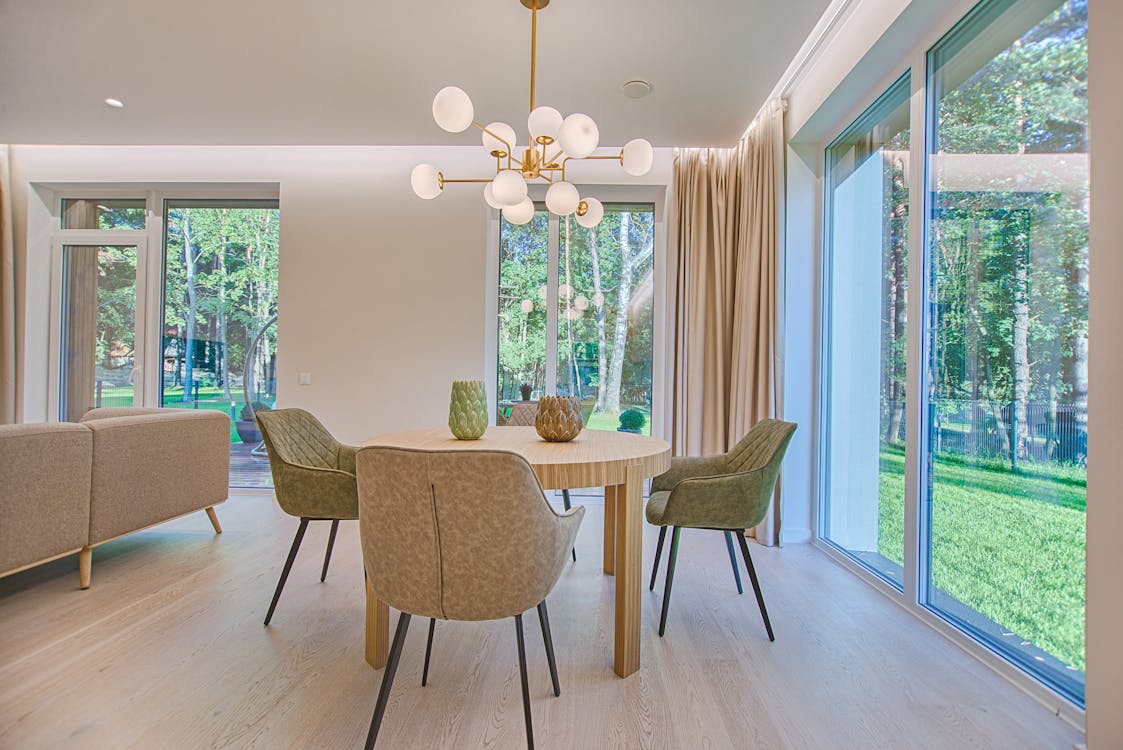 7. Allow More Natural Light to Enter
Several aluminum door options are available in the market, including aluminum bi-fold doors, aluminum casement doors, and non-thermal ones. But if you want natural light to wake you up every morning, we assure sliding doors and windows will be your best bet.
The glass in these doors will be able to give access to natural light, making the space look much more cheerful, active, and alive.
8. Provide the Perfect Aesthetic
If you're a sucker for aesthetics, aluminum doors and windows will change your residential décor game. They provide the perfect mix of elegance, roominess, and style. The doors appear far more delicate as compared to old-style bulky wooden doors. Aluminum doors are ideal if you're looking for a way to add a little style and the perfect amount of elegance.
Most Common Types of Aluminum Doors
1. Hinged Doors
If you have enough space, the best option would be to stick to a hinged or casement door. These doors are usually hinged to one end of the wall and have a swing that either opens outward or inwards. If you're looking for a minimalistic yet stylish change, hinged or aluminum casement doors are the ideal choices.
2. Sliding Doors
Don't have enough space in a room to install traditional hinged doors? You can always opt for a modern-day sliding door! These doors are great for areas where you want to look more spacious.
Whether you install them on your patio or the balcony of your house – they are a great way to upgrade the interior of your property. Aluminum sliding doors have a sleek design and enhanced functionality. They are a modern-day chic addition to your house.
3. Bi-Fold Doors
Aluminum bi-fold doors are another popular option that many homeowners, interior designers, and architects opt for. These doors are great when you are trying to save space. They are great for patios, backyards, front porches, and as a division between a dining and living room.
When you're hosting an intimate dinner party, you can always use these doors to close off other spaces in the house. However, if you have a larger group coming, you can open these gates and let the party spill into the extended area.
4. French Doors
One of the most common choices many people make when choosing interior doors is aluminum French doors. They have sleek and unique designs that include large glass panes, giving the interior of your house more natural light and the illusion of more space.
These are also common choices when people are choosing front entry doors. Aluminum French doors are a great addition to home-based offices or create a classy division between your pantry or storage areas and the rest of the house.