Medina is the key place of pilgrimage for Muslims because it is the city that stands second in importance to Makah, and non-Muslims cannot enter it. It is Saudi Arabia's fourth-largest city and also the country's centre for carrying out different administrative activities.
In 622 AD, Prophet Muhammad (PBUH) preached Islam in this city from the Masjid an-Nabawi, which he built and is also the place where he is buried. It is visited by millions from around the world and is the base of the entire city.
Key Historical Sites of Medina to Visit
Travel to this holy city through Saudi Airlines, which offers connectivity to and from many important international locations in Medina. Here is a look at some of the important historical sites in Medina, Saudi Arabia, that are a must-visit:
The foremost place to visit is the Masjid Al Nawabi, which was built by Prophet Muhammad (PBUH). Today, it is a large complex with gilded doors and marble floors. It has the Prophet's house and a significant portion of its oldest settlement.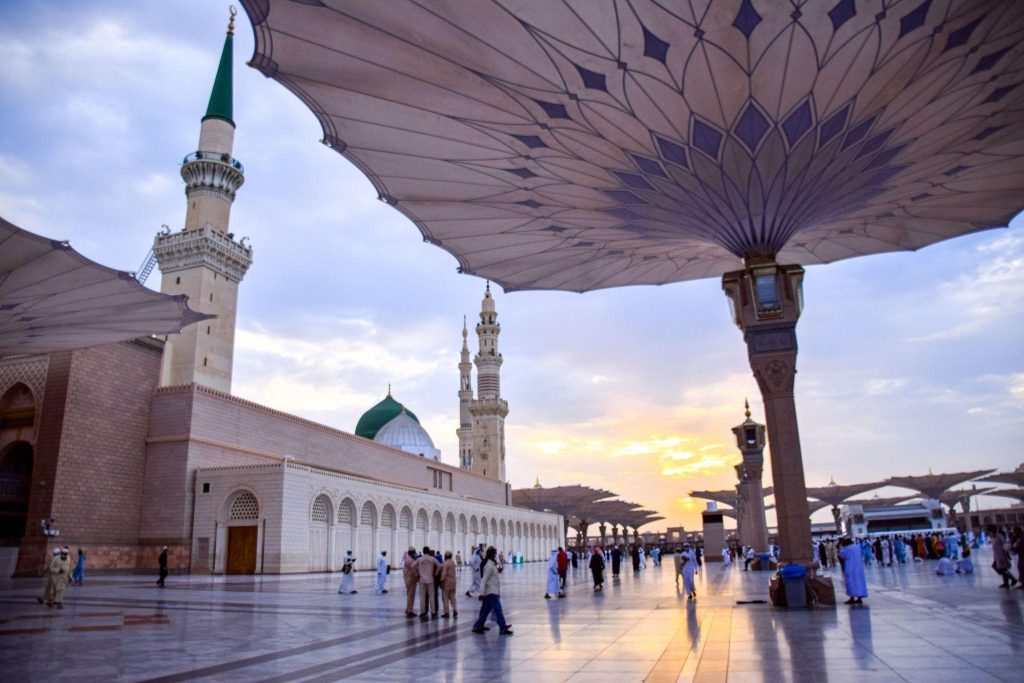 Your next most important place to visit is Mount Ainain, or Mount of Archers, a small mountain that stands right before Mount Uhud. It is in this place that Prophet Mohammed (PBUH) commanded 50 archers to stand and defend the Muslim army from its enemies.
Dar al-Madinah Museum
You should also look into visiting the Dar al-Madinah Museum, where you can see some of the most beautiful artifacts. These items reveal the story of Medina's history, heritage, rulers, and, of course, the life of Prophet Muhammad. There are so many interesting archaeological collections to examine and study here. You can also view many rare images, which give more insight into this city's past.
Make a visit to Wadi E Jinn, which is a place that has the reverse gravity effect. so when cars come to this mountainous area, the iron inside them will pull them upwards, so there is no need to drive the car. The cars are turned off by the people and left to move upward by this effect.
Be sure to make a visit to the Cuba Walkway, which is a path that connects the Masjid Al Nabwi and the Masjid Quba. It is a peaceful, serene place where you can see women and children walking, and it abounds in restaurants and cafes where you can enjoy eating. The Ethq Well is certainly a must-see as it is the place where Prophet Muhammad and Abu Bakr first drank water and sat for a while when he came to Madinah after Hijrah.
Make a trip to the Sheikh SalamaRashdan Museum, as it is a lovely place that showcases artifacts from those ancient Islamic times. You can also find vintage vehicles on display, which you can easily photograph. There is also a gift shop here where you can find some very interesting souvenirs to take back home. The Cave of Bani Haram is very important as it is the place where the trench battle took place. It was here that Prophet Muhammad (PBUH) spent the night during the battle, and it is also believed to be the place where he received Allah's message.
Make a visit to the Anbariya Mosque, which was built in 1908 by Ottoman Sultan Abdülhamid. It is named after the Anbariya Gate and its striking Ottoman-style architecture. The intricate design of this huge mosque is indeed a marvel from ancient Islamic times.
It is a must to visit the Masjid Quba, which is one of the oldest mosques in the world. It is the mosque that has the first stone placed by Prophet Muhammad (PBUH). It is also the first mosque to exist since the time of the prophet in the 7th century CE.
Hejaz Railway Museum
The Hejaz Railway Museum is a museum that educates people about Islamic life. Inside, you will find information being given about train cars or railroads, but you also learn about the prophet's life. It also showcases many ancient arts and artifacts, which are stunning. It has four halls, which display the history of Medina from ancient to present times.
Medina Beautiful City
Medina is a beautiful city where you will learn more about ancient Islamic culture and tradition. Reach the holding city of Medina through Saudi Airlines, the national carrier of Saudi Arabia, which offers flights to 125 locations spread across the world. This city is known for its ancient Islamic past, which is a wonder to sightsee and explore.