Out of the 380,000 churches in the US, almost all are vulnerable to lawsuits, theft, or damage due to natural disasters. While commercial businesses have room for such monetary losses, non-profits such as churches that are already stretching budgets and find themselves in dire need of financial protection
One way to protect a church is to invest in church insurance. And fortunately, owing to the broad range of church insurances available, coverage not only protects the church itself but also the community.
If you're still weighing the benefits of buying church insurance and not using it versus needing church insurance and not having it, take a look at this blog. We say it's better to be safe than sorry, especially when it comes to protecting your place of worship.
But before we talk about the importance of having adequate insurance coverage, let's look at some types of church liability your church should consider.
What Kind of Insurance Does A Church Needs?
Church insurance is an umbrella term that covers a wide range of insurance types. Here are some specifics on the kind of insurance policies a church needs.
Property Insurance
Church property insurance is the most useful of all. Comprehensive property insurance protects your church's building, assets, equipment, and finances. So in case of theft, vandalism, or natural disasters, you can fall back on property insurance.
Liability Insurance
Liability insurance covers legal fees, victim compensations, and court costs in case a church is sued. Here are some of the types of liability coverage.
General Liability
General liability covers all the damages a person or their belongings may suffer at church premises. This insurance plan protects churches in case of litigation against the church.
Professional Liability
Professional liability covers the church staff, especially the pastor and clergy, in case of lawsuits. Professional liability comes in handy when a congregation member accuses the pastor of negligence and misconduct during counseling. However, professional liability doesn't cover sexual assault allegations.
Special Liability Coverage
While it might be difficult to think your church might ever need insurance for charges of molestation and abuse or financial embezzlement, we highly suggest having it. In such situations, a church's first priority is protecting its reputation and wrongfully accused staff. Special liability coverage works in cases where court cases of sexual misconduct, financial discrepancies, and other sensitive matters are pursued.
Health Insurance
Health insurance, like any other commercial entity, protects the staff and members working for an organization. A church can choose a health insurance plan based on its size and number of employees.
Workers' Compensation
A church does not only employ people but also has a vast number of volunteers. Workers' compensation offers protection to everyone who's working at church premises and may get injured or hurt while volunteering. This way, churches can support all of their volunteers and community members.
Special Event Coverage
A church isn't just a place of worship anymore. Churches rent out their premises to people for weddings, birthday parties, and charity events. Special event coverage protects the church building through a legal contract with the renter.
Auto Insurance
A church may have its own fleet or rent cars for events. Church auto insurance covers the church's back in case one of its cars meets an accident. Auto insurance covers medical, repair, and compensation if the church's driver is at fault.
Mission Trip Insurance
Churches also send their missions abroad for various humanitarian works. Mission trip insurance has many types and covers the congregation members and volunteers who're a part of such missions.
Here are some of the types of coverage church missions can get while traveling:
Medical insurance
Emergency evacuation
Trip cancellation
Repatriation of remains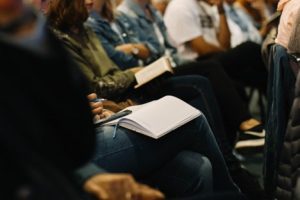 How Insurance Protects the Church and Community?
Now that you know the different types of insurance your church needs, here's how it's good for your people and community.
For the Property
Church property insurance protects the church property, assets, equipment, and everything else on the church premise. All you need is a reliable church insurance agency to find you the right property insurance, and you can sleep peacefully knowing everything is protected.
You can also consult with your insurance broker to get a tailored property insurance plan that protects against floods, wildfires, and unusual natural calamities.
For the People
If your church enjoys a stronghold in the local community and boasts of its large congregation, then this is for you. As a popular church, you have older people, young children, and people of all backgrounds attend your church. You cannot predict when an older person may trip, or a child will get injured while playing. General liability insurance will allow you to respond to anyone who suffers any damages on your church premises and sues the church.
For the Staff
Church liability insurance, as well as workers' compensation, offers protection to the church staff. So whether your church volunteers or staff are accused of any wrongdoing (not including sexual misconduct) or a staff member suffers an injury, they'll be protected.
Insurance coverage will also offer peace of mind to the church management, who may not know what to expect in this highly litigious society.
For the Clergy
A church's clergy and pastor are the most respected authorities of a church. However, if a pastor is sued for negligent pastoral counseling or accused of misconduct, the church can quickly lose its congregation's trust. Therefore, professional liability insurance and special liability coverage will help your church safeguard its pastors and clergy members.
Protect Your Church with Integrity
In trying times such as these, all devoted Christians must work together to protect their church together. This is why, at Integrity Now Insurance Brokers, we take pride in serving churches of California, Washington, Nevada, Ohio, Texas, Arizona, and Colorado.