Born in 1965, Connie Nielsen is a 57-year-old beautiful and successful Danish actress popular globally. The talented actress has contributed a lot to the film and TV industries. She has performed extremely well in every entertainment platform. Connie is known for giving some of the superhit movies during her entire career. 
Discussing her private life, she was born and brought up in the village of Elling, Denmark. Her father served as a bus driver while her mother worked as an insurance clerk. Connie didn't have any acting background nor she was born into a very rich family that can help her to pursue her acting dreams 
However, hard work pays off is one phrase that she proved right. With her dedication and hard work, she achieved her dreams and became one of the best and most celebrated actresses loved by people worldwide. She has been part of many films that have performed extremely well at the box office. 
In this article, we have painted the details about the top 5 roles of Connie Nielsen that can make anyone her die-hard fan.
So, without further talks, let's get started.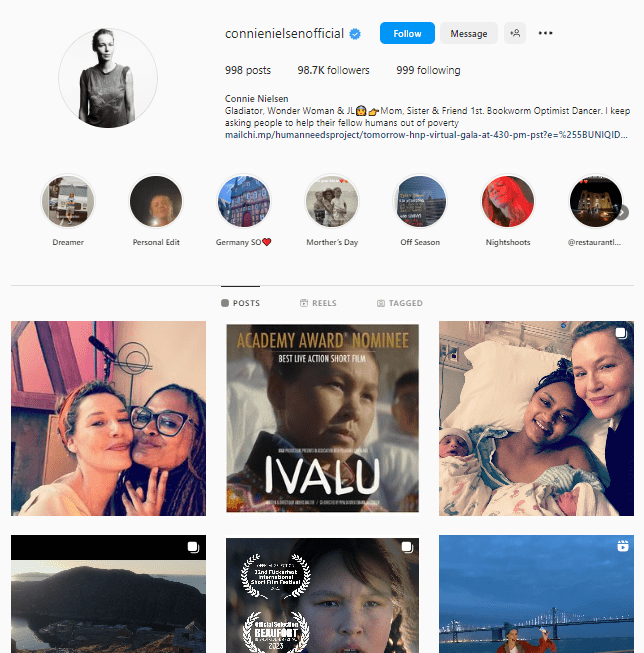 Top 5 Best Roles Of Connie Nielsen
Christabella Andreoli In The Devil's Advocate
It was in the mid-1990s when Connie moved to the United States. Her first debut English movie was The Devil's Advocate which was released in 1997 and in which she played the role of Christabella Andreoli opposite Al Pacino and Keanu Reeves. 
Although she was not in a lead role, this movie gave her recognition in the entertainment industry and helped her to grab bigger and better roles. Her role was good enough to help her get some best projects opposite to the big star cast. Due to her minor role, she got roles in major films like Permanent Midnight and Soldier to name a few.
Princess Lucilla In Gladiator
Princess Lucilla has been one of the major roles of Connie Nielsen in the movie Gladiator directed by Ridley Scott. The movie was one of the epic blockbusters of the year 2000 and was also one of the best movies of her career. She starred opposite famous actors Russell Crowe and Joaquin Phoenix.
She even gained a lot of recognition and praise from critics. The movie gave Connie a golden chance to showcase her acting skills and versatility in a main role and put her in front of an audience. The movie was a massive hit and gave her a much-needed break in the Hollywood industry. 
Margaret Utinsky In The Great Raid
Another major role of Connie Nielsen is Margaret Utinsky in the 2005 film: The Great Raid opposite Joseph Fiennes, Marton Csokas, and James Franco. It was a war movie that showcased the efforts of American Soldiers who were isolated in a camp for a long period of time. 
However, they were saved by the Rangers at the end of World War II. Being part of this big motion picture gave an additional boost to Connie's career.
Queen Hippolyta In Wonder Woman
One of her famous roles is Hippolyta in the 2017 film: Wonder Woman. She played the role of Hippolyta who was the Queen of the Amazons and was also the mother of Diana, Wonder Woman. In the movie, Hippolyta made a baby from clay and infuse life into it through her magical powers.
The movie moves around the story where Princess Diana wanted to take part in a tournament. However, her mother Hippolyta stops her as she didn't want her daughter to get into the world of man and lose immortality. 
However, Diana is very stubborn. She disguises herself to take part in the challenge and win it. On the other side, her hesitant mother was left with no option but to allow her daughter to go.
Directed by Simon West, Stratton is a British action thriller film released in 2017 based on the novel series. Connie is playing the role of summer opposite talented actors like Dominic Cooper, Gemma Chan, and Austin Stowell. 
This is one of her recent releases. The movie moves around a British Special Boat Service operator who is on a mission to track an international terrorist group.
Closing Words
Apart from the above, Connie Nielsen has been part of various movies like Music, War and Love, Sea Fever, Inheritance, Zack Snyder's Justice League, and many more. Above all, she is a talented actress who has made a good name and fame in the entertainment world. She has also been part of the television films like Voyage, I Am the Night and many more.
No matter whether TV or film, Connie Nielsen has always given excellent and commendable performances. 
That's all! For more updates about the entertainment world, stay connected with us.